Adammo-Rock Group from Peru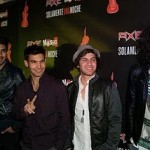 During the very hectic, LATIN GRAMMY week, Entertainment Affair staff had the pleasure of having an exclusive sit down interview with an up and coming rock group from Peru, Adammo. The interview took place on November 10, 2010 at the Orchid Lounge located inside the Mandalay Bay Casino in Las Vegas, Nevada. The four members of Adammo: Ezio Oliva, Renzo Bravo, Diego Ubierna, and Nicholas Caceres stated that they were very happy, excited, and calm, while promoting themselves during the Latin Grammy week.  During the interview the members of Adammo, indicated to EA staff, that they were looking forward to the day of the LATIN GRAMMYS.  The group proceeded to provide a brief itinerary of the day, which they anticipated would begin at 5:00am with an appearance on  "Buenos Dias America".  Their day would then be followed by press, press, and more press!!! Adammo would then get ready in their LATIN GRAMMY outfits, which were designed exclusively for them by Lima, Peru's, Designer of the Year, Sergio Avila.  Adammo's song "Algun Dia" was nominated for a LATIN GRAMMY for best video of the year.
Adammo informed EA staff that they have been a group for a little over three years.  The four members knew each other prior to becoming a group.  The love and passion for music is what led these four young men to leave everything behind and focus solely on music.  According to Adammo, their first year together was to prepare for their group.  At that time, they did not have a manager, however; they were known through Myspace, Hi-five and Messenger.  The Internet still plays a big role for the rock group; who stated that they currently have140,000 friends on Facebook,  and  15,000 followers each on Twitter.
Adammo shot a video for their first recorded song prior to recording an album.  The recording of this song was the prize for winning a local contest.  The video for that song was directed by Percy Cespedez, who also directed "Algun Dia".  Alejandro Gonzalez (Manager) saw the video and contacted Adammo.  The group was proud to inform that they did their own portfolio, which they presented to Mr. Gonzalez.  After this meeting, Mr. Gonzalez officially became the Manager for Adammo.
This Peruvian rock group informed that they wanted a name with a meaning and that is why they chose Adammo, which in Latin means, "the pleasure of doing something".
The video for "Algun Dia" was a transition for Adammo because they used to describe their style of music as "Power Pop teenager", now they classify themselves as "Power Pop- Alternative", which according to them has a more mature sound.  Adammo spoke greatly of their video for "Algun Dia".  Adammo described the video as a super production with more than seventy people working on it and three different types of cameras.  They were also proud to say that they did not use a green background and everything is real and authentic.
Adammo informed us that a limited edition of their new album has already been released in their native Peru.  Per Adammo, this was done as a thank you for all the support they have received from Peru.  In about two or three weeks the album will be released in Latin America.  The new album will contain 11 songs total, 9 of which were written by the group themselves.  The remaining song was written in both Spanish and English.
The group talked about the collaboration with Andrea Waszc, whom they met through a mutual friend.  Adammo added that they would love to someday collaborate with Calle 13 as well as with artists from the reggaeton and hip hop genres.  The mixture of the different sounds excite them and they would love to be a part of the new style of music.
Message to Fans:
Adammo wants all of their fans to know that they are very thankful for all of their support and informed us that they will be in Mexico in March of 2011 promoting their album.  Adammo can be followed on Twitter, Myspace, and Facebook. They can be found under Adammo Peru.
Entertainment Affair  would like to Thank Adammo for the great interview!  These four young men are incredibly friendly, down to earth, and extremely charismatic!!!  We wish you the best in your career and we cannot wait to see all of your success.  Fue un placer conocerlos muchachos y les deseamos la mejor de la suerte!!!