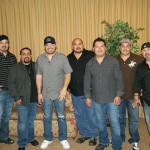 Entertainment Affair had the pleasure of interviewing the group, "Intocable" during their promotional tour in Los Angeles, CA. The group has been traveling throughout the nation promoting their new single, "Robarte Un Beso" , and their new production which will most likely be titled, Intocable.   INTOCABLE's new album was created under their own record label, Good I Music.  The album is expected to be released this year, however, a release date has not been determined.
"The Group of the Decade" as recognized by many has had many accomplishments in the past few years, however, this has not stopped them from leading simple humble lives. The group grew up in a small town in Texas called Zapata, where as children they would dream of "making it big", as quoted by Ricky, one of the lead members. INTOCABLE  feels that the key to their success has been staying grounded and being grateful to their fans for all their accomplishments.
When asked about any collaborations in the future or any collaborations in the current album. The group indicated that they really enjoy Julieta Venegas music, and would consider doing a collaboration with the talented artist. In this album, they do not have any collaborations because the songs were not written with any collaborations in mind.
Many of their fans do not know that INTOCABLE is a big fan of "The Beatles". Yes, our Norteño group is a big fan of 80's music and grew up listening to these types of songs.  When asked on why they began singing Norteño music rather than English music? The group told EA that they could relate more to Norteño music due to their background and would be able to identify with this type of music.
We would like to thank INTOCABLE and their team for this wonderful interview . EA wishes them the best of luck with the release of their new album which is expected to surpass their fan's expectations. We also have an exclusive gallery of INTOCABLE in feature stories. Check it out!