Eminem Might Return to Hollywood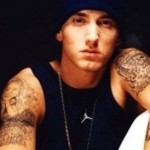 Eminem has been relatively out of the acting loop after his 8 mile debut. However, it seems as if this won't last long as he has plans to return to Hollywood. This is what the rapper had to say,
"There are some things in the [works], a couple of scripts. I guess it's more so of just waiting now to see how they come together. Obviously it's gotta be something that I feel is dope enough to make me want to say, 'OK, let me put the mic down for a second and go do this movie.' There are some things that are in the works. I guess we'll just see how they come together."
Hopefully, he won't leave his music career for acting because apparently his music career is not so shabby. Last night at the 2011 Billboard Awards, Eminem, took home the Top Artist of the Year and Top Billboard 200 Album! Congrats to Eminem! We can't wait to see what the projects are and hopefully his acting will be a lot better this time around!