iTunes Latino/Mexico Spotlights Mr. Pauer With 'Single Of The Week'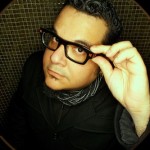 Mr. Pauer is iTunes latest headliner as he is chosen for their weekly "Single Of The Week."  iTunes Latino and iTunes Mexico is offering "Cumbion del Sur" to its millions of users as a free download until May 31.  "For years I've been discovering bands and downloading the free single of the week from iTunes, and to now see the music I created there is incredible," said Mr. Pauer who is also known as Toto González.
Experiencing a spotlight effect within the last 3 weeks has not only catalogued Mr. Pauer as an innovative producer but has elevated him as one of the freshest up-and-coming Latin Electronica artists. Word-of-press and airplay from influential radio stations all over the U.S. and Canada, such as KCRW and KEXP, have further launched him as a pioneer in the "electropical" sound.
Mr. Pauer recently finished wrapping up a successful 5-city tour in Colombia with sold-out shows. An upcoming performance in Central Park's Summer Stage has also been announced, where he will play New York's most prominent and highly anticipated concert series on July 6, 2011 alongside Jarabe de Palo, Ely Guerra, and Novalima as part of the Latin Alternative Music Conference (LAMC).