Romeo Santos #1 on the Radio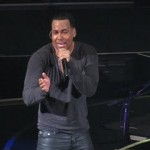 The ex lead singer of the group, Aventura, has reconfirmed his talent as singer and songwriter as he reaches number one in record time with the release of the first single in his solo career, taking the top 1 spot from the Mexican group Maná. Without a doubt it has been a memorable release week that will set records in the music industry.
"We are very happy with both the fans and media's response to the first single, "You." Romeo is without a doubt a superstar. His album is great and the single's debut is just the beginning. Welcome to Sony, Romeo," says Afo Verde, President, Sony Latin America.
 "You" was premiered worldwide on May 9, provoking an immediate reaction in the music industry as it reached the Top of the main music chart - Top Latin, Tropical and Latin Rhythm. Demonstrating once more that Romeo has an unique singing and composing style, the success of singer/songwriter is not limited to one adventure, but instead transcends beyond that and establishes him as the King of Bachata. His writing has long distinguished him among other composers, as is the case with his new single, "You," a song that's characterized by Romeo's playfulness and sensuality.
"You" is an original song, that's catchy and shows off Romeo's innovative style. For his part, in response to this tremendous success, Romeo expresses his gratitude:
"I have to thank all my fans that have supported me as part of Aventura and apparently continue to do so as a soloist. You motivate me to keep working harder every day. I also appreciate the immense support I've received from the radio programmers and DJ's who continue on my adventure with me. In conclusion, many thanks to all those who reacted whether positively or negatively, because the worst would only be to pass unnoticed. May God bless you and we are only warming up with "You," you have no idea what I have coming for you. My album FORMULA will be historic with God's help and with yours'."
FORMULA combines bachata, R&B, up tempo ballads and other musical fusions, sung in both Spanish and English and which will no doubt join the long list of successes the artist has achieved throughout his career as a composer and singer. EA congratulates Rome for this great accomplishment and we can't wait to hear to rest of his album! Stay tuned!  
Courtesy of Digital Girl Public Relations