Ana Isabelle "La Vida Es Bella"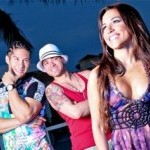 The Puerto Rican singer, Ana Isabelle, has reached the top spots on the radio in Venezuela with her single, "La Vida es Bella".  The song featuring Chino y Nacho was ranked at #6 after being released in Puerto Rico a few weeks ago.
"La Vida Es Bella" is part of Univision's summer campaign in Puerto Rico where Chino y Nacho participated along with other artists from the island. Not only was the song selected by Univision but it was also selected by the writers of the Colombian novela, "Chepe Fortuna" where Ana Isabelle was also invited to particpate in and act as herself.
She is currently working on her third album in Miami and Puerto Rico. The single will be available on July 4th on Itunes. The single will be part of her third album which the title has not been disclosed.
For more information on Ana Isabelle go to:
Press Contact
Nevarez Communications