Ivy Queen Takes Over California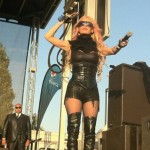 The one and only diva, Ivy Queen, continues to show that women can also conquer the reggaeton world. This past weekend Ivy Queen showed who the true "Caballota" is in California. The Puerto Rican singer performed at Blue Agave Night Club in San Diego where she sang some of her well known hits such as, "Dime", "La Vida Es Asi", "Te he Querido, Te he Llorado", among many others.  However, the diva didn't just stop there, the following day she performed at Los Angeles State Park at one of Pepsi's Music Saturdays.  The diva was very happy to take part of Pepsi's Summer Concert Series which takes places in different cities throughout the United States.
The last performance for Ivy Queen took place in Bay Area Palladium of Sunnyvale, San Francisco where her performance was out of this world. Ivy Queen definitely knows how to hold up to her title of  "La Diva Del Reggaeton".
To follow Ivy Queen:
(@oficialivyqueen) o FaceBook (Ivy Queen La Diva). A secret to EA fans, Ivy Queen personally answers all of her messages on both sites!!! We Love Our Caballota!