Alessandra Villegas graces the cover of "People en Español" website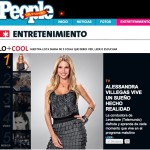 The beautiful and talented Venezuelan host Alessandra Villegas once again captures the attention of mainstream media in the U.S., thanks to her outstanding work on the Telemundo morning show "Levantate", where she injects the show with her youth, dynamism, charisma, beauty and fashion. That's why this time Alessandra graces the cover of the prestigious 'People en Español' website, a leading publication of the entertainment world.
Titled "Alessandra Villegas vive un sueño hecho realidad", the popular magazine which considers her "Lo + Cool", has devoted a lengthy interview in which, among other things, highlights her successful career, and how much she enjoys and learns from each moment she lives on the morning show. With sympathy and freshness Alessandra talks about her anecdote in the "Miss Venezuela" pageant with Daniel Sarcos, with whom she currently works, together with a new team of hosts Omar Germenos y Azucena Cierco, who join Rashel Diaz, filling the morning with good energy from coast to coast.
This report comes at an important moment in Alessandra Villegas impeccable and soaring career. She is currently on the air in the United States hosting two other programs "Planeta Feroz" on V-Me, and "Mundo Deportes" that airs on AT&T U-verse. Also, Alessandra was recently selected as one of the best dressed on the red carpet at the Billboard Awards 2011.
"My dream was to host a program and with 'Levantate' I am getting a golden opportunity. It's very dynamic, and I get the opportunity to learn. Every day I tell my colleagues I am getting paid to do what I like and for the opportunity to learn from the professionalism of the team", said Alessandra in the People en Español interview.
To stay in touch with Alessandra Villegas follow her official Twitter account @AlessandraVille
Credit: People en Español
Click here to view the full article online
http://www.peopleenespanol.com/pespanol/articles/0,22490,2083461,00.html