'The Men Of Warrior' Book Makes Debut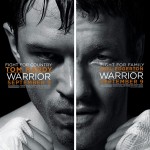 Lionsgate and publisher Insight Editions are thrilled to announce "The Men Of Warrior." Featuring fine art portraits by acclaimed photographer Tim Palen, the book is a companion to the highly anticipated film WARRIOR, which will be in theaters everywhere on September 9, 2011.
"The Men Of Warrior" features stunning photographs of the actors and fighters featured in the film, including Tom Hardy, who also wrote the book's foreword, Joel Edgerton, Erik Apple, Nate Marquardt, and Ron "RJ" Messenger.  In its pages, Hardy and Edgerton show off their hard-earned fighting bodies and bloodied upper lips, capturing the tough and dramatic world of WARRIOR in a series of iconic images, all of which are poster-worthy.
Said CEO of the book's publisher Insight Editions Raoul Goff of the book's release, "Insight Editions is proud to include Tim Palen to our list of award-winning photographers as we release the larger-than-life fine art photography book "Men of Warrior."
The 128 page book is on shelves at brick and mortar book sellers nationwide, and is also available on Amazon, Borders, and Barnes & Noble's websites.