Univision Announces Finalists for "Protagonistas"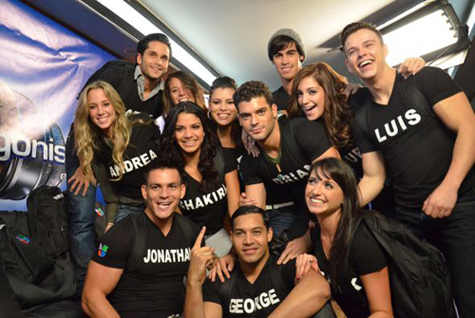 The Univision Network announced the 12 finalists set to step into the spotlight on "Protagonistas, el Reality" (Novela Stars, the Reality), the talent competition series produced by Univision Studios and Imagina and airing Monday-Friday at 10 p.m. ET/PT and Saturdays at 7 p.m. ET/PT. Hosted by famed Mexican actor and presenter Ernesto Laguardia, the search for television's next rising star kicked off with open auditions held across the country and Puerto Rico, as well as via online submissions.
The 12 competitors ready to prove they have star potential include Adrian Gomez of Boynton Beach, FL, 20 (Cuba); Marlin Limon of Chicago, IL, 19 (Mexico); Alex R. Rosales Guerrero of Miami, FL, 20 (Cuba); Andrea Martinez of Miami, FL, 22 (Venezuela); Ayelene Magrini of Venice, CA, 23 (Argentina); George Hichez of Bronx, NY, 27 (Dominican Republic); Jonathan Carlos Manriquez Ruiz of Pasadena, TX, 25 (Mexico); Luis Alvarez of Houston, TX, 18 (Mexico); Laura Aleman of San Juan, PR, 24  (Puerto Rico); Mateo Restrepo of Miami, FL, 25 (Colombia); Shakira Barrera of Englewood, NJ, 21 (Nicaragua) and Shanik Hughes of Miami, FL, 23 (Mexico).
The show's expert panel of celebrity judges is comprised of Laura Zapata (TV, theatre and film actress), Beto Cuevas (actor, musician, producer, composer and former lead singer of the internationally-acclaimed Chilean rock band La Ley) and Isabella Santo Domingo (award-winning actress, TV host, best-selling author and journalist).
"Protagonistas, el Reality" will look for the nation's most talented men and women as they compete for a once-in-a-lifetime opportunity to make their onscreen debut in one of Univision's upcoming productions. The 12 moved into the "Protagonistas, el Reality" studio house in Miami.
Fans can access profiles, photos and interviews with this year's judges at Univision.com, keyword: "Protagonistas". Complete online and mobile coverage of the show will feature exclusive videos, bios and photos, the latest news and interviews with the participants and online forums for fans to comment and share with friends. Viewers can enjoy exclusive behind-the-scenes coverage of all the auditions with commentary from host Ernesto Laguardia in Univision On Demand. Weekly recaps of the week's highlights are available.