Alexis y Fido Euphoria In First Visit To Peru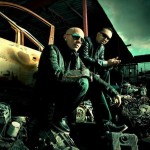 This past weekend, Alexis y Fido performed for the first time before the Peruvian public in two different presentations. The concerts, filled to capacity, were on Friday the 25th at the Club de Abogados of Arequipa and Saturday the 26th in the Explanda del Monumental in Lima, Peru. More than 20,000 people attended the concert entitled "The Formula".
The Formula is a completely innovative and unique concept in the urban genre which brings together on one stage the most important artists. For more than 2 hours, with multiple in and outs by the talent, a lively interaction is created among them and a different interpretation of the public's favorite hits.
Among the repertoire of songs by Alexis y Fido were their biggest hits: "Energía", "Contestame el Teléfono", "El Tiburón", "Donde estes llegare", "Ojos que no ven", "Igual que tu", "5 Letras", "Me Quiere besar" and together with Xion and Lennox performed "El Pantalón", with all the fans who chanted from start to finish during the concert. "The Pitbulls" feel extremely happy to have lived this experience in Peru, a country they certainly hope to visit again next year.
For more information on Alexis and Fido visit:
Web: http://www.alexisyfido.com
Facebook: http://www.facebook.com/alexisyfido
Twitter: http://twitter.com/ALEXISYFIDO