Sherlock Holmes: A Game of Shadows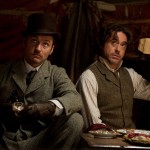 Robert Downey Jr. reprises his role as the world's most famous detective, Sherlock Holmes, and Jude Law returns as his formidable colleague, Dr. Watson, in "Sherlock Holmes: A Game of Shadows."
Sherlock Holmes has always been the smartest man in the room…until now.  There is a new criminal mastermind at large—Professor Moriarty (Jared Harris)—and not only is he Holmes' intellectual equal, but his capacity for evil, coupled with a complete lack of conscience, may actually give him an advantage over the renowned detective.
Robert Downey Jr. retoma su rol del más famoso detective del mundo, Sherlock Holmes, y Jude Law vuelve como su formidable colega, el Dr. Watson, en "Sherlock Holmes: A Game of Shadows."
Sherlock Holmes siempre fue el más inteligente de la reunión… hasta ahora. Hay una nueva mente criminal suelta, el Profesor Moriarty (Jared Harris), que no solo es intelectualmente tan capaz como Holmes sino que su capacidad para el mal, unida a su completa falta de conciencia puede darle una ventaja sobre el renombrado detective.
Starring: Robert Downey Jr., Jude Law, Noomi Rapace, Jared Harris, Eddie Marsan, Stephen Fry
Directed By: Guy Ritchie
Written By: Michele Mulroney & Kieren Mulroney
Produced By: Joel Silver, Lionel Wigram, Susan Downey, Dan Lin
Sherlock Holmes: A Game of Shadows In Theaters 12.16.11
Visit the official site at http://www.Sherlock-Holmes-Movie.com