Angelica Maria Returns to Telemundo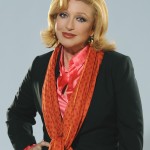 Starting this week, beloved Mexican actress Angelica Maria arrives as Cecilia Arismendi, a character that will divulge an important secret in "La Casa de al Lado" (Telemundo, 10pm/9c).
After having played several roles in Telemundo novelas "Mi Corazón Insiste" and "Aurora," Angelica Maria enters the world of intrigue of the successful "La Casa de al Lado." Cecilia Arismendi is a woman who has lived a tormented life and comes in search of her daughter after she becomes a widow and starts feeling lonely. Without thinking about it, Cecilia comes not only to save her daughter Pilar (Maritza Rodríguez) but to become the catalyst in this incredible story.
Viewers who want to discover more about "La Casa de al Lado" can login to Telemundo.com and follow Facebook (LaCasaDeAlLadoTelemundo) and Twitter (@LaCasaDeAlLado).
Photo by: Juan Manuel Garcia/Telemundo