Don Francisco To Be Inducted Into TV Hall Of Fame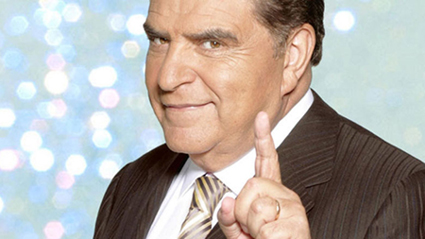 Legendary global television icon Don Francisco, host of "Sábado Gigante" (Giant Saturday) will be honored by the Academy of Television Arts & Sciences as an inductee into its 21st Annual Hall of Fame.  The ceremony will be held March 1st, 2012 at The Beverly Hills Hotel in Beverly Hills, California.
"It is a great honor and privilege to be recognized by the Television Academy in this way," says Don Francisco. "To be listed among all those talented people in the Hall of Fame is unbelievable to me.  My 50 years in broadcast has been an incredible journey, so far.  I have traveled the world, interviewed an amazing list people, seen the best of what the world has to offer and the worst, things I never would have dreamed when I started my career back in Chile.  And realizing there is still more to come.  I truly want to thank the TV Academy."
Don Francisco will celebrate his 50th year in television in 2012.  He is currently watched by Univision's loyal viewers weekly in 42 countries across the United States, Latin America, Canada and Europe. Much beloved by his fans, Don Francisco also promotes and hosts the televised Teletón, a benefit for disabled Chilean children. His philanthropy also extends to serving as the Latino spokesperson for the Muscular Dystrophy Association, appearing on the annual MDA Labor Day Telethon, appealing to Latinos for their donations.
With nearly five decades of entertaining families around the world and attracting millions of viewers across America, "Sabado Gigante" features three hours of non-stop fun, 52 weeks a year with no re-runs. Today, "Sabado Gigante" continues to be a ratings success.  This season-to-date, the show is delivering an average audience of 2.4 million Total Viewers 2+ and is currently the top-ranked regularly scheduled program on Saturday night (broadcast or cable) among Hispanic Adults 18-49 and Total Viewers 2+.
In addition to "Sábado Gigante," one of the most popular programs in the history of Spanish-language television, the Emmy winner is also host of "Don Francisco Presenta" (Don Francisco Presents), a weekly primetime talk show that showcases a varied assortment of today's hottest actors, recording artists, and other celebrities for some of the liveliest and, oftentimes, emotionally revealing hours of television anywhere.
Other 2012 inductees announced include: television producing team Mary-Ellis Bunim & Jonathan Murray, network executive Michael Eisner, actor Sherman Hemsley, lighting designer Bill Klages, producer Chuck Lorre and comedy duo of Vivian Vance & William Frawley. Academy Chairman and CEO, John Shaffner also announced that Bunim, Vance and Frawley will be inducted posthumously.