"The Enhancers Jeans by Funky Soul" Cause Sales Commotion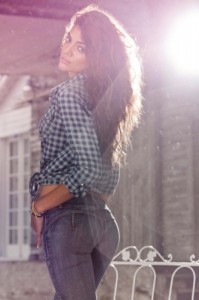 There's a new jean in town and it's causing a major sales commotion worldwide. "The Enhancers Jeans by Funky Soul" is a concept line created solely to shape the body of the women of the world.  The line features four distinct fits including "Love it Fit," "Dreamy Fit," "Boomy Fit" and "Miracle Fit."  The Miracle Fit Jean was recently featured in a special segment on ABC's Good Morning America.
The Miracle Fit defies nature and features special concealed and removable pads in the buttocks area that add volume to a woman's derriere.  It also slims the stomach area giving the unique woman who wears them, an enviable, all around voluminous, daring yet natural shape.
"We are very pleased with the response of the audience after The Miracle Fit Jean was featured in GMA.  For all in our Company, it is of great satisfaction when we see that one of our products causes that much attention in such a tough environment, but we know people still want to buy fashion that exceeds their expectations. In 2012 we are looking forward to delight our customers with new innovative products; expanding our brand day by day," said General Manager for Funky Soul, Beatriz Galliano.
With the emphasis placed on famous derrieres such as those of J.Lo, Beyonce, Kim Kardashian, and most recently Pippa Middleton, women all over the world now have an opportunity to enhance their figure without having to go under the knife.
The Enhancers are designed to provide a perfect body shape and fit by combining: science, a love of fashion and a unique insight into innovative denim. The target user of this revolutionary product is a sophisticated, trendy, self-aware and empowered individual, confident in her natural lines; and at the same time ready to seize the opportunity to accentuate her body in a beautifully simple way.
Funky Soul is available globally in such markets as the United States, Canada, Mexico, Guatemala, Costa Rica, Panama, Dominican Republic, Australia, Qatar, United Kingdom, Venezuela and Puerto Rico.
For more information on "The Enhancers Jeans by Funky Soul" please visit:
www.shopfunkysoul.com
http://funkysouldenim.com
http://www.facebook.com/FunkySoulDenim
@funkysouldenim