'El Talismán' Premieres Tonight on Univision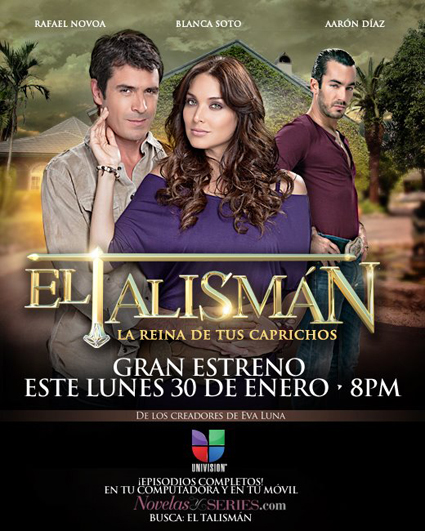 In "El Talismán" a loving father who loses it all in a poker game, has no idea the far-reaching repercussions of his actions; ones that will forever change his daughter's destiny. Trapped in the middle of an old feud symbolized by the powerful haciendas of "El Alcatráz" and "El Talismán", Camila Aceves (Blanca Soto) and Pedro Ibarra (Rafael Novoa) will be the pawns in this unlucky game. He is a handsome and courageous man who, despite being cynical about love, cannot help but open up his heart to her. She is a young, beautiful and intelligent woman that can't stop herself from loving him despite the uncertainty about his past. But when Pedro unwittingly becomes the man that brings Camila's father to his ruin, destiny will turn them into enemies. Spinning a web of secrets and lies around them will be the handsome but arrogant Antonio Negrete (Aarón Díaz), along with his sensual and manipulative sister Lorena (Lola Ponce). They will do everything in their power to turn the odds to their favor and win what their hearts' desire most – to destroy Camila and Pedro's relationship. As deceit, betrayal, and confusion tear Camila and Pedro apart, only one question remains: will they find the talisman to turn luck in their favor?
After captivating worldwide audiences with her lead role in Univision Studios's hit novela "Eva Luna," Blanca Soto returns to the network in the mega production, "El Talismán." Prior to her work with Univision, the actress, model and former Miss Mexico had starred in several movies, including the award-winning short film "La Vida Blanca" and the 2010 blockbuster "Dinner for Schmucks."
Mexican actor Aarón Díaz also returns to the small screen after making his indelible mark on Univision's highly popular novela "Teresa." Starring as Mariano, one of Angelique Boyer's ("Teresa's") main love interests, Díaz won the hearts of millions with his irresistible looks and charming personality.
The charismatic Rafael Novoa, plays a strong role in this story of entangled love in "El Talismán", is one of Colombia's most renowned actors. As the main character of Colombia's hit novela "Pura Sangre," he broke international barriers becoming a household name in the entertainment industry.
Lola Ponce, Argentinean actress and singer will make her U.S. debut as the bombshell temptress "Lucrecia" in "El Talismán." Ponce began her acting career starring in teenybopper novelas in her native Argentina in the late 90s.
Sergio Reynoso is a 30-year veteran of Spanish-language television. Better known as el "Chakain," Reynoso began his on-screen career in Mexican films, including Luis Alcoriza's "Las Fuerzas Vivas," "El Angel Negro," and "Viajero," among others.
Marcela Mar is a well-known Colombian actress who began acting at an early age and attended Bogota's prestigious National Theater. Since then, Marcela has participated in theater productions, film and television, characterizing various genres with the innate talent and passion she is known for.
Julieta Rosen is a Mexican actress with an extensive career in Spanish-language television. She began her career at the tender age of 16 in theater productions in her native Mexico, including the famous play "Don Juan Tenorio."
Novela sweetheart Karyme Lozano, known for her role in some of Spanish-language television's leading novelas, including "Amar Sin Límites," "El Manantial," "Niña Amada Mía" and "Soñar No Cuesta Nada," makes her much-anticipated return to the small screen in "El Talismán."
Exclusive cast and character profiles, videos and photos are available online and on mobile at www.NovelasySeries.com.
"El Talismán" premieres Monday, January 30 at 8 p.m. ET/PT (7 p.m. Central)