Miami's Minimal is set to release "A Deriva"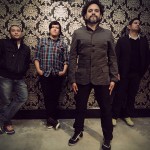 Minimal releases their latest single and video "A Deriva" from their forthcoming album "Antibalas Corazon." The single will be available at all U.S. digital music stores, Thursday February 9, 2012 and will officially launch with their release party at PAX, one of Miami's most delightful live venues on that same date. The event will feature a full live performance by Minimal and  presentation of the video "A Deriva," which was directed by Venezuelan director Pablo Erminy and produced by Minimal and mixed by multiple Latin Grammy® Award winner Sebastian Krys.
With an eclectic and versatile mix of sounds, Minimal defines what is powerful and relevant about Latin-Alternative music being made in the United States today; call it indie rock, call it alternative, call it brilliant. Minimal's music flirts with the electronic, incorporates English and Spanish lyrics, and is pumped with a healthy dose of tropical energy. Antibalas Corazon is Minimal's third studio production and showcases the band's dynamic and sensual sound. "A Deriva" incorporates fast paced tempos and a wide variety of textures by using synthesizers, drum machines, samplers, and traditional indie-rock elements that further characterize Minimal's sonic image.