The 14th Annual Los Angeles Salsa Congress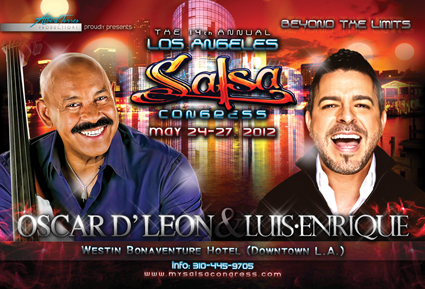 The Largest International Salsa Event of the Year is here
An incomparable week of music, dancing, workshops celebration
with incredible talent from around the world!
The largest International Salsa Event of the Year Arrives! With an astounding 3,000 attendance per evening plus talented dancers, veteran instructors and DJs providing music and entertainment from all over the globe, this year's Los Angeles Salsa Congress is the most anticipated international festival and now on its 14th celebration of Salsa music to arrive in L.A.
A traveling musical extravaganza produced by the world's premier producer of live salsa music and dance events, Albert Torres Productions, with stops all over the world including Dubai, Canada and Japan, the week-long L.A. festivities that year by year attracts over 20,000 Latin Music fans from all over the world, boasting talent from 40 countries and include performances by top billing artists as well as classes by the world's top dance instructors and the best tropical music DJs from the USA and abroad.  In addition, a special treat for music aficionados FANIA AllStars label will be at a sponsorship booth area selling their incredible music collection throughout the festival.
The event kicks off with Johnny Polanco with special guests will launch artist performances on Thursday May 24th, at the preferred tropical music venue in L.A., the world famous Conga Room.
Following on Friday May 25th, 2012 by Bachata Room hosted by Island Touch Dance Academy which boast of over 37 million hits on YouTube (Ataca & La Alemana)  the rest of the week by the Musician's Seminar, a four-day intensive individual and group class directed by three-time GRAMMY® winner Oscar Hernandez.
With VIP seats already sold out, iconic GRAMMY® award winning Salsero Oscar D' Leon "El Leon de la Salsa" (The Lion of Salsa) with his full orchestra will bring his star power to the L.A. Salsa Congress on Friday May 25, 2012.
Following yet another stellar night on Saturday May 26, 2012 by two time GRAMMY award winning "El Principe de la Salsa" (The Prince of Salsa) Luis Enrique who returns to Los Angeles after a two year absence.
Rounding out the event the final night on Sunday May 27th, 2012 will featured direct from New York GRAMMY nominated New Swing Sextet with special guests Alfredo De La Fe.
All evenings will run approximately until 4am.
A great variety of Dancers, instructors and musicians are joining this celebration/participating throughout the week with more and more musical talent including African Jet (Morocco and Italy), Robert & Robyn (Texas), Super DJ Robbie (Los Angeles), Eddie Torres (NY) , Johnny Vasquez (Mexico) , Tito & Tamara (Puerto Rico) and first time from Turkey , The Georgian Dancers and from India, 'Bad Salsa' second place winners of 'India's Got Talent' of only 11 & 13 years of age first time traveling away from their country.
No other salsa congress in the world has this much talent in one location - the L.A. Salsa Congress is so monumental that it is known as the hub for other congresses to scout and recruit talent. This year, the festival will be held at The Westin Bonaventure Hotel, located at 404 South Figueroa Street, in downtown Los Angeles. The venue boasts three large rooms with over 6,000 square feet of dance floor for social dancing, salsa, bachata, kizomba & zouck, pop, hip hop, animation, hustle, and much more.
For more information visit: www.mysalsacongress.com