MINIMAL: Maximizing Music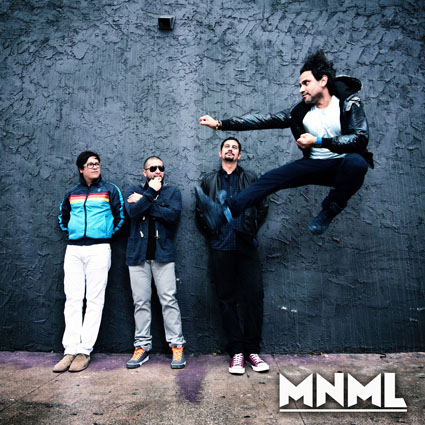 Minimal, a Miami-based band, brings to the indie-rock sphere innovative music blending electric tunes with a heavy Spanish rock sound.  The four members of the band, from Colombian, Peruvian and Nicaraguan descent, met in Miami at a very young age and began playing punk music.  When maturity caught up with them also did the Spanish rock influences that were very popular at the time, like Fabulosos Cadillacs and Soda Stereo.  That's when they decided to change their name to an adjective that would describe the change in sound, Minimal.  Well, at least, that's the official story, Alejandro Angee, the drum player, confessed to us "I was a huge Ariel Minimal fan, Fabulosos Cadillacs first guitarist, and I wanted to pay an homage to him.  The official story is how I basically convinced the other members of the band".  It seems it worked because after many years together the band is promoting their third album Antibalas Corazon, which was mixed by 8-time Latin Grammy winner Sebastian Krys.  Alejandro keeps confessing:
EA: How is this new album different from the other two, Fotos, cartas y un puñal (2006) and Hermoso Caos (2009)?
Alejandro: The sound is more upbeat than the other two combined.  Also, the lyrics are different.  Our lyrics were very dark and melancholic and now we sing to love and heartbreak.
EA: Tracks like "A Deriva" y "Cancion para decir adios" are about heartbreak, but tracks like "Antibala and "Bombs Away" are about social issues.  Which of the two messages is more important to convey?
Alejandro: When we began playing together ten years ago, we used to sing about social issues all the time.  We made a commitment to go back to that and I like it a lot.  On the other hand, when recording this album, we were going through a lot of difficult situations in our personal lives and those lyrics are a reflection of that time.
EA:  What was the inspiration behind the title of the album Antibalas Corazon?
Alejandro: Both things, love and heartbreak and social issues.
EA: How was the experience of working with Sebastian Krys?
Alejandro: Phenomenal! When we sent him our demos, I thought he was going to say that he wasn't interested or that he was too busy.  But he listened to them and he liked them.  To me it was wonderful the simple fact that he replied to our email.
EA: The video for the song "A Deriva", right now in promotion, has many images representing how macabre our Latin culture can be such as the personification of death, cemeteries, virgins and even Frida Kahlo.  What was the purpose?
Alejandro: It is a combination of things.  Our first album Fotos, cartas y un puñal was an album that used the same imagery to tell a story and our director, Pablo Erminy is part of that movement, not only in art, but in literature as well.  Even though this album is different and the lyrics don't relate, we decided to stick to that specific Latin American iconography.
EA: Speaking of Pablo Erminy and out of curiosity, how did he end up with a song with his name on this album?
Alejandro:  I did not know it was going to create such a big interest.  Pablo is a long time friend of mine and I feel bad every time I explain this.  He is someone that lives in an alternate life.  When he talks to you, you don't know if he is talking about reality, a dream or a story he created and that makes him very special.  He listened to this song and he loved it.  Since he has directed many of our videos and we have such a good relationship with him we decided to dedicate it to him.
EA: What is your favorite song from this album?
Alejandro: Wow!  It could be La Gran Ventana, indirectly it is the story of the band and what we've been through.
EA: What can we expect from the live shows?
Alejandro: Lots of energy... that for sure!
ON THE WEB
Minimalband.com
facebook.com/minimalband
myspace.com/minimalband
twitter.com/minimalband
reverbnation.com/minimalband
youtube.com/minimalband