Jesse McCartney Amps the Fear Factor in Chernobyl Diaries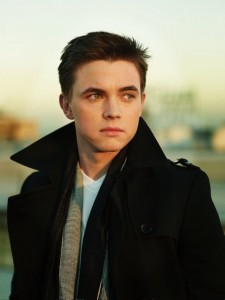 From pop sensation to movie star, Jesse McCartney has traded the music industry for his horror film debut in Chernobyl Diaries.  The film, in theaters May 25, is an original horror thriller from screenwriter Oren Peli who first terrified audiences with his groundbreaking film "Paranormal Activity."
The story follows a group of six young vacationers who, looking to go off the beaten path, hire an "extreme tour" guide.  Ignoring warnings, he takes them into the city of Pripyat, the former home to the workers of the Chernobyl nuclear reactor, but a deserted town since the disaster more than 25 years ago. After a brief exploration of the abandoned city, however, the group soon finds themselves stranded, only to discover that they are not alone.  The audience only sees what they see and only knows what they know.  Using a natural, improvisational technique, audience members become part of this extreme tour and experience the fear along with the characters on screen.
Entertainment Affair caught up with Jesse McCartney in New York City, right before boarding his flight to Los Angeles to promote this new terrifying movie.
Entertainment Affair: You are well-known for your music career and animated films.  What made you decide to do a horror film?
Jesse McCartney: Part of the allure of the movie is that Oren Peli was producing the film and he is, obviously, such a big niche in the horror, thriller genre.  I have worked with the director, Bradley Parke at the beginning of 2011 for a FOX pilot that never got picked up and a couple of months later, Brad called me and asked if I would be interested in doing this film and I said, "Sure!"
EA: What did you think of the script when your first read it?
JM:  When I asked Brad to send me the script he said there was no script.  It's all improv.  He, definitely, got my attention and I jumped on board.  It all happened so quickly.
EA: Were you a fan of Paranormal Activity?
JM: Yes, of course!  I am not usually a guy who would go and buy a ticket to watch a horror movie, which is ironic now that I am in one.  I love Paranormal [Activity.  I haven't seen the third one yet.  He is so creative and he's come up with new and innovative ways to thrill audiences and that's hard to do in this genre.  He is leaving a mark and raising the bar.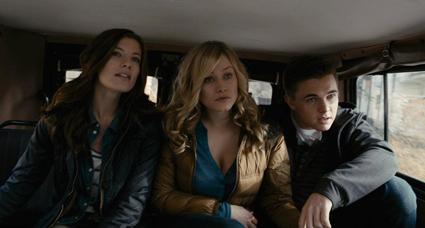 EA: How similar or how different is this movie form Paranormal Activity?
JM: First of all, there's nothing paranormal about this movie.  This film is more centered in these three college students who go to Europe to visit my [character's older brother in the Ukraine.  My initial goal is to propose to my girlfriend and the plan is to do it in Russia.  On our way to Russia, he says let's take this three hour detour to Chernobyl, to the city of Pripyat and of course, everything that could go wrong, goes wrong.  It is more about the chase than something paranormal.  That's the biggest difference.  He uses the same creative tools, one-single camera hand held and it makes the audience feel that they are in this movie with these guys.  It is a very cool technique.
EA: Where was the movie shot? For how long?
JM:  We filmed in Budapest and Serbia for five weeks.  A lot of people don't think that Hungary and Serbia as destination places.  I was very impressed.  It was my first time in Eastern Europe and I was blown away.  I loved it, specially Hungary, the architecture is incredible, the food is amazing.  They have a farmer's market that put to shame the ones in LA. The people are so friendly and super humble.
EA: The Chernobyl disaster happened before you were born.  What did you know about it before this movie?
JM: I didn't know much.  Unfortunately in America, most people my age don't know about it.  It is one of the worst ecological disaster of all times.  I did a lot of research because in school we didn't learn about Chernobyl, and I was horrified to know what these people went through with a catastrophe caused by man and still today, people can't go to sections of Ukraine because the radiation levels are so high and it will remain high for the next 100 years.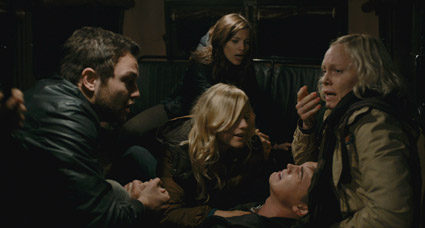 EA: You are one of the youngest cast members, but at the same time, one of the most experienced.  How was the dynamic on the set?
JM: The dynamic was really cool.  I became friends with many of them, specially with Jonathan [Sadowski, who plays my older brother.  We have a great chemistry and it shows.  Some of the actors were very experienced with improvisation, so we helped each other.  It was a fun environment.
EA: Are you going to take a break from your music career to concentrate in acting?
JM:  Well, I've been concentrating in acting for a couple of years now.  I also have been writing for other artists.  I am waiting for the right time to come out with my new album.  Hopefully, this year.
CHERNOBYL DIARIES opens nationwide this Friday, May 25, 2012.