nuvoTV's MODEL LATINA: SOUTH BEACH Kicks Off Fifth Season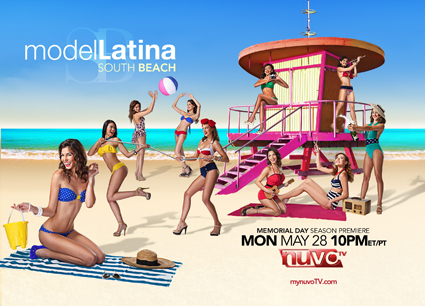 Premieres Memorial Day, Monday, May 28 at 10:00PM (ET/PT)
nuvoTV's hit series, MODEL LATINA: SOUTH BEACH kicks off its fifth season with a special hour-long episode on Monday, May 28 at 10:00PM (ET/PT). After tackling New York and Las Vegas in the past two seasons, the series returns to America's hottest destination for Latino style – Miami's South Beach. Ten gorgeous Latinas will compete for a chance to win a $25,000 cash prize, a role as nuvoTV's spokesperson and a prestigious contract with international modeling agency Q Management.
This season's judges panel will include international, heartthrob actor and recording artist Carlos Ponce (Couples Retreat, Alcanzar Una Estrella), sexy Victoria's Secret supermodel Ines Rivero and renowned fashion photographer Franco LaCosta. Puerto-Rican sports reporter and dazzling TV personality Jocelyn Pierce, will lead the series as the new host.
Throughout MODEL LATINA: SOUTH BEACH, the young and gorgeous model hopefuls will strut their stuff but will need to use their smarts to help them advance to landing the grand prize.
"The drama will be bigger, the challenges will be tougher than ever, and for the first time the celebrity judges will be in select photo-shoots with the models and will personally mentor them." said Maria Perez-Brown, nuvoTV's SVP Programming, "The girls are from across the country and represent the rich diversity and nuance of our core Bi-Cultural Latino audience. It will definitely be an unforgettable season as each of them strives to become the next Model Latina."
Cindy Salaues
Age: 24
Guatemalan-Bolivian
Hometown: Los Angeles
Brown-eyed beauty Cindy grew up in sunny Southern California and never has trouble making people smile with her pleasant, unpretentious demeanor, and dreams of walking the runway for top designers.
Oneisys Amador
Age: 26
Cuban
Hometown: Miami
Miami gal Oneisys grew up in Cuba before moving with her mom to Florida at age 13. She's currently an events planner but is hoping her acting and modeling classes – and this stint on Model Latina: South Beach -- will help lead her to superstardom.
Marlene Cruz
Age: 21
Puerto Rican
Hometown: San Juan, Puerto Rico
Puerto Rican stunner Marlene is a full-time college student studying Human Resources Management in P.R. and has been modeling part-time for the past two years. She still has a teddy bear named Elmer, which, of course, makes her even cuter!
Jacqueline Reyes
Age: 25
Dominican
Hometown: New York
"I'm single and ready to mingle," says Dominican beauty Jacqueline about her move to SoBe. The fun-loving, free-spirited New Yorker got her Organizational Communications degree in Florida, so she's no stranger to the sizzling local scene.
Rachell Martell
Age: 20
Cuban-Italianz
Hometown: Miami
Cuban cutie Rachell already has plenty of modeling experience and now she's ready to step up her career as a model-actress and is studying to take Hollywood by storm. She's also part Italian, which she says explains her taste for artists: Italian dynamo Lady Gaga and legendary crooner Frank Sinatra.
Muriel Villera
Age: 21
Colombian
Hometown: Miami
Miami gal Muriel is hotter than the SoBe sun and can work a runway like nobody's business! We suspect that this sexy Colombian-American scene-stealer will be gracing the cover of fashion magazines in no time. And it's her undeniable, self-professed "sassy, sexy attitude" that is going to take her to the top!
Maytee Martinez
Age: 20
Cuban
Hometown: Miami
This gorgeous Cubana may be new to the Model Mansion but she's definitely not new to modeling. The busy beauty has strutted runways during Mercedes-Benz Fashion Week in Miami and NYC as well as during Brooklyn's awesomely artsy Williamsburg Fashion Weekend and SoBe's sizzling Funkshion Fashion Week.
Jillian Pacheco
Age: 18
Puerto Rican
Hometown: New York
"I love to have fun and turn everything into a party!" says college cutie Jillian, who likes to crank up hip-hop and catch up on the latest issues of Latina and Cosmo when she's not busy studying. She has also appeared in one of her other favorite magazines, Teen Vogue, five times.
Brittany Peralta
Age: 22
Mexican
Hometown: New Mexico
This sexy, country music-loving student hails from New Mexico and is as fun, smart and upbeat as she looks. Brittany is a trained dancer who balances her time with school and part-time modeling on the local scene.
Maybelline Canela
Age: 21
Dominican
Hometown: New York
Smart and sexy, this Bronx beauty was born and raised in the Empire State and is currently a college student studying psychology in NYC. Even with a full-time school schedule, Maybelline balances her life as a bookworm with bombshell with grace but still finds time to pursue her passion for modeling and acting.