"Brave" Presents Merida, First Female Lead in a Pixar Film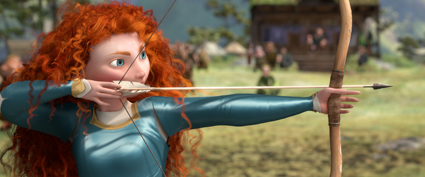 Pixar's latest animated feature film, "Brave," follows the heroic journey of Princess Merida, who is determined to carve her own path in life. She defies a custom that unleashes chaos and fury in the kingdom and after she is granted an ill-fated wish, Merida has to rely on her archery skills and bravery to undo the beastly curse before it's too late.
Kelly Macdonald, the voice of Merida, feels very privileged to give life to Pixar's first female protagonist. "I had so much fun. I got to play this part that I would never be able to play in a live action film, because I'm not a teenager," she said. Macdonald knew from the moment she got a call from Pixar, that this project was special, "That's the great thing about Pixar, every movie they bring out has the most cutting edge technology. What they do is extraordinary!"
The mother-daughter relationship lying at the center of the plot in this coming-of-age story, takes us through ancient Scotland's folklore and magic. "By making them a queen and a princess, you had this very traditional society that she wants to break with and find her own sense of person," said Mark Andrews, director of the film, at a recent press conference. "The great tradition of folk tales, its breaking that dynamic that puts us in a situation where people can actually see their true selves and what's everything about," he added.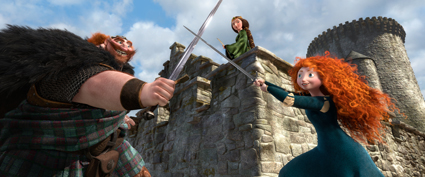 Earning a PG rating, "Brave" is a bit more dark and intense than previous Pixar films, something the filmmakers were aware of. "It has these moments and we definitely believed that balancing them with heart and humor was the way to go, but we didn't want to shy away from that, we wanted to show real consequences to our actions," explained producer Katherine Sarafian. She adds, "She [Merida needed to make a choice that will have real impact, it needed to have that intensity to it."
Some of the humor was brought in by Scottish actors Billy Connolly, Kevin McKidd and Craig Ferguson, in the roles of King Fergus, Lord/Young MacGuffin and Lord Macintosh, respectively. Although one of the drawbacks for voice actors in animation movies is that they don't interact and work together. "It was a shame, but I think Katherine Sarafian had said we never have gotten any work done if we were in the same room. It was a shame we didn't get a chance to do sessions together," said McKidd.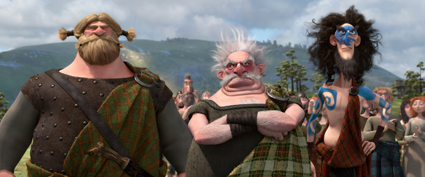 Ferguson finds the positive side of working in animation films, "You are not limited by who you are physically. You could play anybody and anything, so the world and the opportunities that are available to you as an actor are expanded by working only with your voice."
Can you really change your fate, can we really change our destiny? "We can control our own destiny if we are brave enough to look inside ourselves and find out what that really is," Andrews added.
Disney•Pixar's Brave opens in theaters this Friday.