"Magic Mike" Fills the Big Screen with Testosterone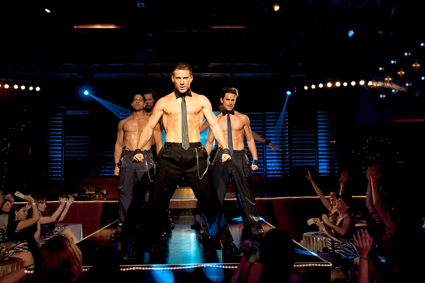 Oscar winner Steven Soderbergh ventures out into the world of male strippers in his latest movie "Magic Mike." That's right, you did read Soderbergh and male strippers in the same sentence. The movie was born on the set of "Haywire" when actor Channing  Tatum brought up the idea to the director, from his real life experience.
Although the story is based on Tatum's own experience he wants to make clear this is a fictional story. "There's nothing that is factual in this whole movie, other than I was an 18-year-old kid and went into this world, and dropped out of college and playing football, and was living on my sister's couch. There's no one character that I took from my real life, this is just the world I went into and I had a perspective on it, and we created everything from a fictional place," he explained.
The movie follows Mike, hot headliner in an all-male revue at Club Xquisite, who takes a 19-year-old guy he calls the Kid under his wing and schools him in the fine arts of dancing, partying, picking up women and making easy money. Joining Tatum and rounding out this hunk fest of a cast is Alex Pettyfer, Matthew McConaughey, Joe Manganiello, Matt Bomer, Kevin Nash and Adam Rodriguez.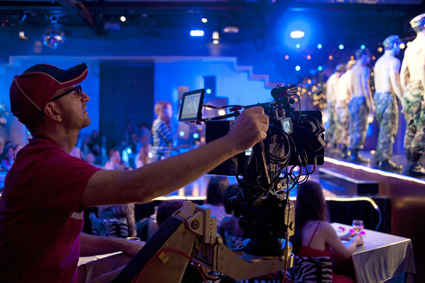 If you are wondering, why a movie about male strippers, I say why not, but Tatum says, "we're trying to do our part to objectify men for the first time in movies." According to the guys, life on set was very interesting. "I just respect these guys for jumping into the film with both feet into the stage, because I've done it before and it was still nerve wrecking for me, and I can't imagine what these guys had to go through," he added.
"As far as trusting wardrobe, it is one of the larger leaps of faith, to trust a thong," said McConaughey of the costumes or lack of, for that matter. Now add dance routines to go with said costumes. "We all saw Channing [Tatum dance for the first time and it was obvious... We were like, 'ok, the best I can do is get second place," he joked. "A very, very distant second place," added Manganiello.
Soderbergh couldn't be happier with the cast of his "little indie movie exposé". "They're all jumping out of the plane together and as soon as I saw the routines for the first time I knew we were going to be fine, because they were funny. They [the routines were fun, they weren't dirty, they were fun," he said. For Manganiello it was a lesson in self control, "the hardest thing about shooting this movie was biting the inside of my mouth trying not to laugh as McConaughey is in a yellow spandex halter top with bike shorts grinding on Alex's [Pettyfer hips in the mirror!"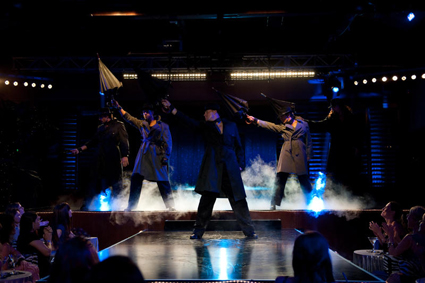 Girls, make sure to bring your umbrellas, because it's raining men!
"If you are a smart, single guy, you're gonna go see this on a Friday or Saturday night, because guess who's gonna be in the theater," jokes Manganiello. In between laughs Tatum adds, "and if you're really smart, you wear your fireman outfit."
"Magic Mike" opens in theaters on June 29.