ROCK OF AGES Thematic Prize Pack Giveaway!
Entertainment Affair gives you the chance to win an exclusive Prize Pack courtesy of the new film ROCK OF AGES.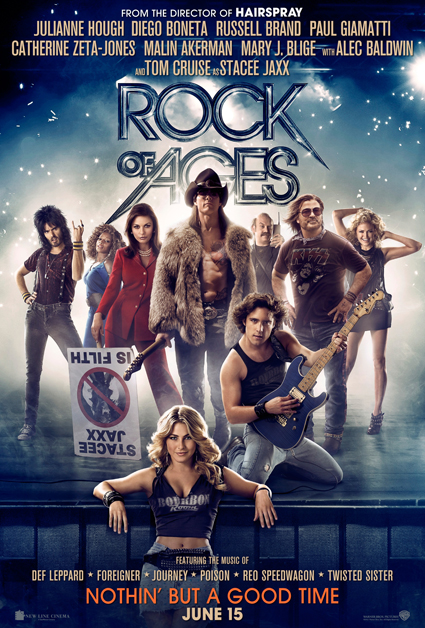 June 15, Warner Bros. Pictures invites you to experience the rock musical film ROCK OF AGES starring Diego Boneta, the Mexican born actor and singer in the lead male role opposite Julianne Hough and accompanied by the all-star cast of Russell Brand, Paul Giamatti, Catherine Zeta-Jones, Malin Akerman, Mary J. Blige, Alec Baldwin, and Tom Cruise.
ROCK OF AGES tells the story of small town girl Sherrie and city boy Drew, who meet on the Sunset Strip while pursuing their Hollywood dreams. Their rock 'n' roll romance is told through the heart-pounding hits of Def Leppard, Joan Jett, Journey, Foreigner, Bon Jovi, Night Ranger, REO Speedwagon, Pat Benatar, Twisted Sister, Poison, Whitesnake and more.
RULES:
Unscramble the words to reveal the Mexican born actor starring in ROCK OF AGES:  GIDEO ATBENO. Tweet #DiegoRocks "_(answer)_" @ENTAffair to enter for a chance to win.
ROCK OF AGES – Prize Pack contains the following:
1 (Admit Two) – ROCK OF AGES Hollywood Movie Money
1 – Rock of Ages Arsenal T-Shirt
1 – Rock of Ages I Love Stacy Jaxx Tank
1 – Rock of Ages Nail File
1 – Rock of Ages One sheet poster
Visit Warner Bros. Cine – Latino on Facebook for additional content, promotions and updates on behalf of the film.
ROCK OF AGES In theaters and IMAX on June 15
Contest closes Friday, June 15th and four lucky winners will be announced Monday, June 18th. Good luck to everyone!
The following promotion is open to current residents of the United States only. Hollywood Movie Money is a free admission voucher to see a predetermined film (Rock of Ages) redeemable nation wide starting 6/15/12 through Thurs., 7/12/12 in any theater excluding AMC Theaters.