Landmark Latin Concert Comes To Public Television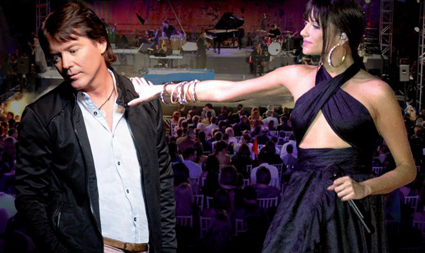 A Landmark Concert From Puerto Rico Is Now Set To Air On Public Television Stations Across The Country 
Marc Anthony, Laura Pausini, Bernie Williams, Cheo Feliciano, Natalia Jiménez, Ana Isabelle And More Join Pianist Arthur Hanlon In The First Concert Ever Recorded At Puerto Rico's Historic Castillo de San Cristóbal
"Encanto del Caribe" Will Begin Airing On August 1st And Have A Full CD/DVD Release On August 21st 
Arthur Hanlon And Natalia Jimenez's Touching Rendition of Beloved Standard "Historia de un Amor" Is Now Available at iTunes As The Album's First Single.
Beginning on August 1st, and stretching across a span of three months, Public Television stations across the country are set to share a landmark Latin music concert from Puerto Rico. "Encanto del Caribe" ("Charm of the Caribbean") finds acclaimed pianist Arthur Hanlon uniting an impressive line-up of Latin music stars - Marc Anthony, Laura Pausini, Bernie Williams, Cheo Feliciano, Natalia Jiménez, Ana Isabelle and more - for the first-ever concert recorded at Puerto Rico's historic Castillo de San Cristóbal (a UNESCO World Heritage Site).  With over fifty musicians and dancers coming together around Hanlon's trademark Blue piano, "Encanto del Caribe" will bring a heartfelt seaside evening of music in Puerto Rico into the homes of public television viewers in over fifty major markets in the United States, with many affiliates making the programming an essential part of their upcoming/life-sustaining special pledge drives. "Encanto del Caribe" will also be available as CD/DVD release from Universal Music Latino on August 21st.
In an interesting irony of full-circle history, it seems rather appropriate for Hanlon to have been the driving force behind this unique cultural postcard from one of Puerto Rico's most famed landmarks. With Puerto Rico having experienced strong Irish immigration from the 16th – 19th century, it was two Irishmen - Field Marshall Alejandro O'Reilly and Royal Engineer Thomas O'Daly that were commissioned to improve Puerto Rico's defenses, restructuring the famed El Morro, and building Fort San Cristóbal. Now, nearly 250 years later, it is a critically-praised Latin music instrumentalist of Irish heritage that unifies many of Puerto Rico's best musicians for the very first concert to take place within the grounds of San Cristóbal.
For more information on Arthur Hanlon and "Encanto del Caribe," please visit: www.arthurhanlon.com