Jencarlos Canela Signs with Universal Music Latin Entertainment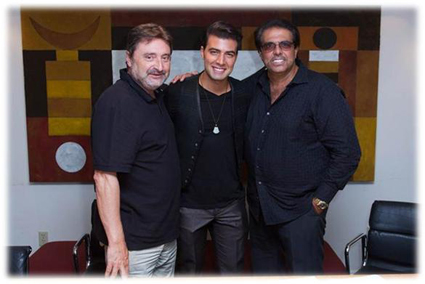 Singer-songwriter, Musician & Actor Jencarlos Canela Signs with
Universal Music Latin Entertainment
Jencarlos to release his new album early 2013
Singer-songwriter and SESAC Latina affiliate Jencarlos Canela-one of the most promising young stars in the Latin music industry-announced he signed this week with Universal Music Latin Entertainment, the world's premiere Latin music entertainment company.
One of the most versatile and talented Latin artists today, Canela's astonishing proficiency performing in diverse genres earned him the opportunity to collaborate with Pitbull in the hit single "Tu Cuerpo" and to record "Sueña", one of the commemorative songs of the 2012 Olympics in London. The tune, which was produced by the renowned Emilio Estefan, confirmed him as one of the fastest rising stars in Latin music.
Jencarlos Canela is finalizing details to kick-off the recording process for his much anticipated third studio album, which will be released by Universal Music early 2013 featuring own compositions and remarkable collaborations. One such example is the song he co-wrote with Samo, lead singer of Mexican pop band Camila. The new album is a follow up to "Un Nuevo Dia" (2011) which reached the top of the charts in the United States and Puerto Rico.
"I feel very happy to join a record label that has throughout the years demonstrated a consistency with producing hits and is led by executives that really understand the business and good music. It is a pleasure to be a part of the Universal Music family and I want to thank my great friend Jesus Lopez and all of the Universal Music team for their support and warm welcoming, much respect!", Jencarlos said.
Currently, Jencarlos is preparing his scheduled appearance at the first annual Telemundo's Tu Mundo Awards, where he will surprise fans with a special performance and is the most nominated artist of the night.
For more information about Jencarlos Canela, visit: www.jencarloscanela.com