THE EXPENDABLES 2 Prize Pack Giveaway!
Entertainment Affair gives you the chance to win an exclusive Prize Pack courtesy of the new film THE EXPENDABLES 2.
August 17, Lionsgate invites you to experience THE EXPENDABLES 2, the sequel to the action-packed hit, THE EXPENDABLES. The film reunites Sylvester Stallone, Jason Statham, Chuck Norris, Arnold Schwarzenegger, and Bruce Willis on a revenge driven mission to payback their brother's savage murder after a simple job goes wrong.
The Expendables are back and this time it's personal...
Barney Ross (Sylvester Stallone), Lee Christmas (Jason Statham), Yin Yang (Jet Li), Gunner Jensen (Dolph Lundgren), Toll Road (Randy Couture) and Hale Caesar (Terry Crews) -- with newest members Timmons (Liam Hemsworth) and Maggie (Yu Nan) aboard -- are reunited when Mr. Church (Bruce Willis) enlists the Expendables to take on a seemingly simple job.  The task looks like an easy paycheck for Barney and his band of old-school mercenaries.   But when things go wrong and one of their own is viciously killed, the Expendables are compelled to seek revenge in hostile territory where the odds are stacked against them.  Hell-bent on payback, the crew cuts a swath of destruction through opposing forces, wreaking havoc and shutting down an unexpected threat in the nick of time — six pounds of weapons-grade plutonium, enough to change the balance of power in the world.  But that's nothing compared to the justice they serve against the villainous adversary who savagely murdered their brother.
That is done the Expendables way....
RULES:
Flex your muscles and answer the following thematic question: Who is your favorite Expendable? Tweet #TheExpendables "_(answer)_" @ENTAffair to enter for a chance to win.
THE EXPENDABLES 2 – Prize Pack contains the following:
1 – The Expendables 2 T-Shirt
1 – The Expendables 2 Dogtag
1 – The Expendables 2 Tattoo
1 – The Expendables 2 Poster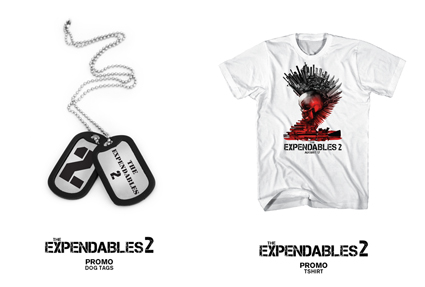 The legendary Expendables are back for war in THE EXPENDABLES 2, in theatres on August 17!
Contest closes Sunday, August 19th and one lucky winner will be announced Monday, August 20th. Good luck to everyone!
The following promotion is open to current residents of the United States. Sponsors, its employees, members of the family and its agencies are not eligible. One entry per person. Duplicate entries will be disqualified.