Gaby Moreno and the Musical Journey Inside her Album 'Postales'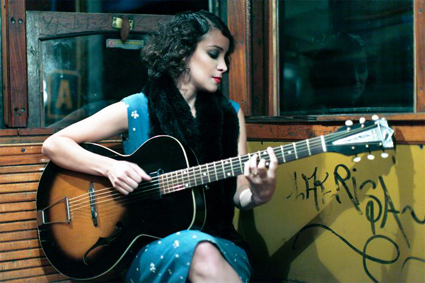 Vintage clothing, jazzy voice, blues nostalgia, that's how we can describe Gaby Moreno and her new album Postales.  Introduced to the Latin scene by the single "Fuiste tu", a ballad duet with Ricardo Arjona, the singer-songwriter released her first album Still the Unknown in 2009 and her second album, Illustrated Songs in 2011.  Having toured Europe and United States, sang with Bono from U2 and named Peace Ambassador by Yoko Ono, it's time for the Guatemalan musician to be recognized in her own home, Latin America.
Entertainment Affair caught up with her before the release of Postales, out on September 4th.
EA: Postales is your first Spanish album. Why now?
Gaby:  My past albums were in English and Spanish.  They were bilingual albums.  Now, I am reaching a massive crowd and the album is dedicated to latinos.  That's why this one is 100% in Spanish.
EA: Why do you have so many musical influences from jazz and blues, but not many latin influences?
Gaby: I don't know.  I discovered blues when I was 13 years old and it captivated me.  It was the genre that reached my soul and I decided to study it and listen to it.  It was the genre that shaped me as a musician and as a composer.
EA: When did you know you were going to be a musician?
Gaby: When I was 9 years old and I performed for the first time in front of a crowd. I knew right away that I had to do this for the rest of my life.
EA: Why did you choose to play the guitar?
Gaby: I wanted to play the saxophone because I liked jazz very much.  I asked my mom for it when I was a little girl, she couldn't afford it.  She bought me a guitar instead and told me: "All singers play the guitar".  The guitar and I became inseparable.  I began to sing, to write, to compose.  My mom was right.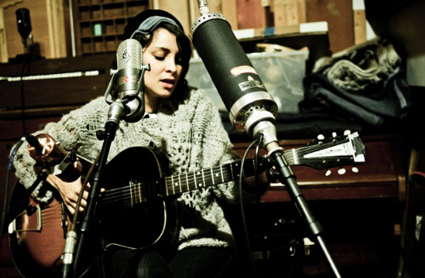 EA: How do you describe the album Postales?
Gaby: It's an album with a soul, very honest and with a lot of nostalgia.  The sound comes from the 50s and 60s and I try to take the audience to that time.
EA: In the first single Ave que emigra, you sing to the people who move from their country to follow their dreams.  Are you singing about your own situation when you moved from Guatemala to Los Angeles?
Gaby: Yes.  The song tells my story when I moved to Los Angeles to follow my dream of doing music, but I dedicate the song to all immigrants who leave everything behind for a dream.
EA: Is it a reflection of the social issues of so many latinos crossing borders for a better future in the USA?
Gaby: Yes, specially people who leave their families for better opportunities.  Mi situation is different because I move following my music dream, but for other people, reality is more raw.
EA: How was the experience of shooting the video?
Gaby:  I worked with a Guatemalan director and a Venezuelan producer. I loved working with them.  They already had the idea of shooting the video in Los Angeles.  We shot at Griffith Park. The idea was to show my journey by walking around the mountain with my dog.  Actually, that's my real dog.  I am carrying two frames which represent my memories that I literally carry with me.
EA: The video has a vintage flair as well as your music.  How important is it to look back?
Gaby: I am an old soul.  I wear vintage clothes.  I love the music from the 50s and 60s.  It is very me.  It defines me as an artist.
EA: Why does the album have the concept of journey and traveling so present?
Gaby: Since last year, I've been traveling a lot. I've been from Switzerland, to Buenos Aires, to Los Angeles.  It is exhausting, but at the same time it is an amazing experience.  It exposes me to different cultures and different landscapes.  That inspired me. I began composing music on the road and that's how the album was shaped.