Win a 'For Greater Glory' BLU-RAY/DVD Combo Pack!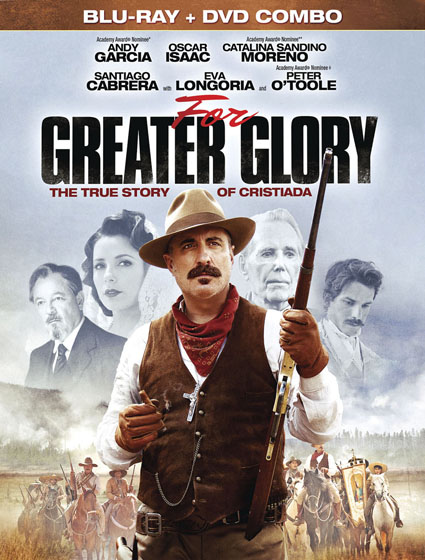 ARC ENTERTAINMENT INVITES YOU TO TAKE HOME THE EPIC TRUE STORY OF MEXICO'S "CRISTERO WAR."
With performances by Academy Award® nominee Andy Garcia, Golden Globe winner Eva Longoria, Oscar® winner Peter O'Toole, rising star Oscar Isaac (DRIVE), recording star and actor Ruben Blades (SAFE HOUSE), Bruce Greenwood (STAR TREK, SUPER 8), Nestor Carbonell (THE DARK KNIGHT RISES, "Lost"), Bruce McGill (LINCOLN), Santiago Cabrera ("Heroes," CHE), Oscar®-nominated Catalina Sandino Moreno (MARIA FULL OF GRACE) and Eduardo Verástegui (BELLA),  FOR GREATER GLORY brings you the tale of a group of men and women who make the decision to risk it all for family, faith and future of their country.
To enter to win:
-Follow Entertainment Affair on Twitter and/or Facebook.
-Send your name and email to contests@entertainmentaffair.com. When entering, please write 'FGG DVD' in the subject line.
-You must be 18 years of age or older to be eligible to win. No purchase necessary. Winners will be selected by random drawing and will be notified via email.
For more movie information, please go to the following:
Official Website – www.ForGreaterGlory.com
Facebook — www.facebook.com/ForGreaterGlory
Twitter — www.twitter.com/ForGreaterGlory
Available on VOD, DVD, BLU-RAY on September 11, 2012
Sponsors, its employees, members of the family and its agencies are not eligible. One entry per person. Duplicate entries will be disqualified. Winners will be notified by email and/or phone. Contest closes Tuesday, September 11th and three lucky winners will be announced Wednesday, September 12th. Open to current residents of the United States and the District of Columbia only.