MundoFox Premieres New Original Series "Alias El Mexicano"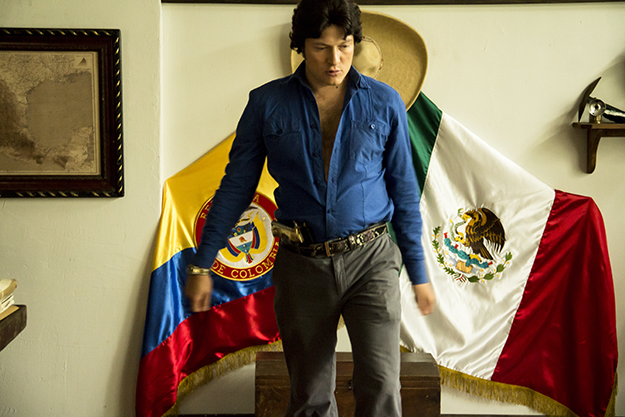 "Alias El Mexicano," a new original action-drama based on the true story of drug lord and co-founder of the Medellin Cartel, Gonzalo Rodriguez Gacha will premiere Tuesday, December 3 and will air Monday through Friday at 9PM/8C on MundoFox.  In anticipation of the series premiere, MundoFox will air "Rodriguez Gacha – Alias el Mexicano, the Documentary" on Monday, December 2 at 9PM/8c.
Told through the eyes of his victims, based on the rigorous research of Pulitzer Prize-winning investigative reporter, Gerardo Reyes, and brought to life by the producers of El Capo, the series depicts the life, ascent to power and eventual death of one of Colombia's most powerful criminals. Better known as "El Mexicano" due to his fascination with Mexican culture, Gacha was the only man that even the violent Pablo Escobar feared.
"'Alias El Mexicano' not only offers viewers the high-drama and action they crave, the series also provides a superb storyline shot entirely on location across the United States, Mexico and Colombia," said Adriana Ibanez, EVP of Programming for MundoFox. "Powerful cast performances and state-of-the art production values provide viewers with a product that measures up to the standards set by our previous hit series 'El Capo 2' and 'La Mariposa."   
The series opens in 1963 Colombia, taking viewers back in time to the cities of Boyaca and Cundinamarca where Gacha spent his early years. From humble beginnings, he developed a chilling mentality that placed money and power above all.  In this world Gacha took what he wanted, no matter the price.
Told through the eyes of the fearless women who money could not buy and true life heroes who stood-up against terrorism, crime and corruption, including politicians, journalists and men in uniform, the story showcases the will to fight for what is right and the tough reality of a country that fell victim to this man's wrath.
Produced by FoxTelecolombia for RCN Television and MundoFox, the cast of this original production is led by Colombian actor Juan Sebastian Calero who gives life to "El Mexicano," Gonzalo Rodriguez Gacha, with Rafael Novoa, Flora Martínez, Carolina Gaitán, Marcela Valencia, Fabio Rubiano, Toto Vega, Nikolás Rincón, Rubén Zamora, Héctor García, Kenny Delgado, Rodolfo Silva, Víctor Hugo Terespalacios, Angela Vergara, Yesenia Valencia, Alfonso Ortiz, Rafael Zea, Eric Cuéllar and Luis Fernando Montoya.
To learn more about "Alias El Mexicano" visit http://www.mundofox.com/aliaselmexicano.