NBC Universo Set to Premiere "Sons of Anarchy" En Español January 17th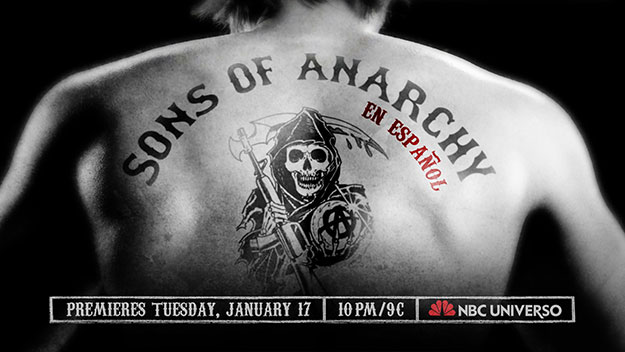 NBC UNIVERSO, the modern entertainment and sports cable channel for Latinos, and the fastest growing cable network, will premiere "Sons of Anarchy" en Español Tuesday, January 17th at 10pm/9C. NBC UNIVERSO acquired U.S. television cable rights from Twentieth Television to air the seven seasons of FX original series "Sons of Anarchy" en Español for the first time in the United States. The hit drama series created by Kurt Sutter is one of cable network's most successful series of all-time and one of the highest-rated shows in FX's history.
In regards to the announcement, Kurt Sutter stated: "I love that this is finally happening. At its core, 'Sons of Anarchy' is a show about family. And the Latino culture, like no other culture I know of, is rooted so deeply in the bonds of family."
"Sons of Anarchy" is an adrenalized drama with darkly comedic undertones that explores a notorious outlaw motorcycle club's (MC) desire to protect its livelihood while ensuring that their simple, sheltered town of Charming, California remains exactly that, charming. The MC must confront threats from drug dealers, corporate developers, and overzealous law officers. Behind the MC's familial lifestyle and legally thriving automotive shop is a ruthless and illegal arms business driven by the seduction of money, power, and blood.
"Following the success of 'The Walking Dead' en Español, we are thrilled to take our viewers on another unprecedented wild ride and experience the gritty tough biker world in their own language," said Joa Bilai Silar, Senior VP of Programming and Production. "We continue raising the bar offering audiences alternative quality content with great storylines and offbeat characters that is currently not available on any other Spanish-language cable network."
"Sons of Anarchy" was created by Kurt Sutter, and is executive produced by Sutter, Paris Barclay, John Linson, and Art Linson. The series was produced by Fox 21 and FX Productions. The series stars Charlie Hunnam, Katey Sagal, Emilio Rivera, Kim Coates, Mark Boone Junior, Tommy Flanagan, Theo Rossi, Dayton Callie, Jimmy Smits, David Labrava, Niko Nicotera and Drea de Matteo.
Fans can engage on social media by using the hashtag #SOAenEspanol and find more content about the show in Spanish on NBC UNIVERSO's Facebook https://www.facebook.com/NBCUNIVERSO and Instagram https://www.instagram.com/nbcuniverso/.