'Flowers: Rhythm Delight Music' Brings Afro-Caribbean Vibes to Los Angeles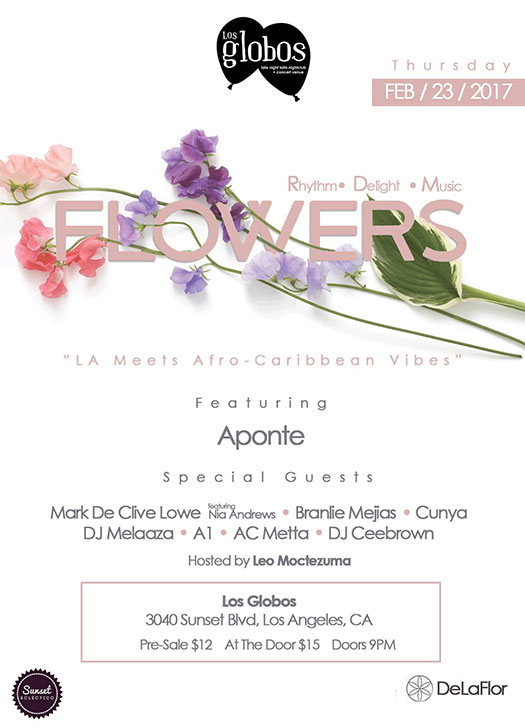 On Thursday, February 23 Sunset Ecletico Magazine and DeLa Flor Productions will highlight the diversity and artistry of the LA music scene and bridge with Afro-Caribbean genres like salsa, bomba, plena and reggae.
"This party will be an open door for quality music, love and purpose. There are a lot of artists blossoming, but it's easy to bypass them just as you would if you walked around a garden and took for granted a beautiful flower. So I want this party to expose those flowers," says headlining Artist and Producer, Aponte, who hails from Puerto Rico and calls LA his home now.
Flowers RDM will be hosted by Leo Moctezuma Creative Director, and also Co-Host of popular online show,  A Songwriter's Right on LA Talk Radio. Performers will include Composer and Jazz Artist, Mark de Clive Lowe featuring Nia Andrews. Cunya, an Afro-Puerto Rican band, will also perform with Branlie Mejias, A1 and AC Metta bringing in the hip hop and reggae. Visuals by talented graphic designer Phoebe Ünter. Flowers will be sponsored by local florist, Luxury Designs by Cgee. Attendees will also have the opportunity to win a Latin Percussion (LP) djembe drum.
This party is  an all inclusive safe space encompassing diversity. Guests will be entertained and encouraged to bloom and  build gardens not walls all while learning about the plight of the Afro-Caribbean community through Rhythm Delight Music.
Pre- Sale Tickets are $12 and can be purchased here: http://bit.ly/2l7tY57
At Door : $15
Thursday, February 23 at 9pm
21+
Los Globos - 3040 Sunset Blvd, Los Angeles, CA 90026
About DeLa Flor Productions
DeLa Flor is a music and event production hub based in Los Angeles and aims to provide a transcending experience among artists. Dedicated to bridge the multicultural music scene and showcase quality music with an eclectic taste. DeLa Flor represents  life, love, beauty and is about creating and exposing the optimum stage of artistry in soul, hip hop and latin music.
About Sunset Eclectico
Sunset Eclectico is a  multimedia publishing and event company owned by LA Talent Booker, Luis Polanco. Dedicated to expose and promote new talent in the Los Angeles bilingual and alternative music scene. For more information visit: http://sunseteclectico.com/