Gore Verbinski and the 'A Cure for Wellness' Cast Talk About the Film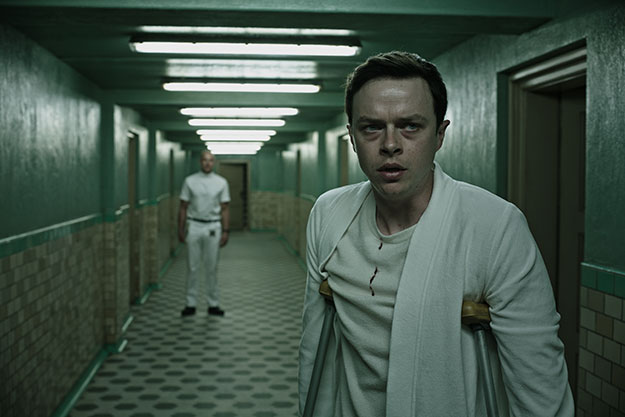 A Cure for Wellness, Gone Verbinski's (The Ring) most recent horror film, is a hypochondriac's worst nightmare. Dane Dehaan (The Amazing Spiderman 2) stars as Lockhart, a driven Wall Street stockbroker who is sent by his firm to a remote alpine medical spa. Lockhart is on a mission to retrieve the company's CEO, Pembroke (Harry Groener), a patient at the spa, who has told his staff that he has no intention of returning to New York. Lockhart arrives at the tranquil sanitarium where the residents are supposedly receiving a miracle cure. In fact though, they seem to be getting sicker. Soon, Lockhart is diagnosed with the same condition as the other patients by the institution's director, the ominous Dr. Volmer (Jason Isaacs), and finds that he is trapped in the alpine retreat. Lockhart begins to lose his grip on reality and has to endure unimaginable ordeals during the course of his own 'treatment'. We sat down with director Gore Verbinski and stars Dane DeHaan, Mia Goth and Jason Isaacs at a recent press conference in New York to talk about the film.
Verbinski explores on the idea that the human mind constantly questions our well-being. He explains: "What is it about us that deep down inside we know we are not well." When we try to answer this question, we become the patients of our own psychosis. He adds: "It's not a  movie that you can summarize in one sentence. It's different.  Viewers don't know what to expect. Today that doesn't happen very often, the audience is familiar with what they are going to see. [With this film], it is not like people played the video game and know they are going to sees movie about it."
Unpredictability was what attracted actor Dehaan: "The script was original and crazy. Nothing that I've done before.  I wanted to challenge myself.  My character is not likable, but he is on every scene and carries the story. That's what I wanted to do." Co-star Mia Groth agrees: "It was very well written, very unpredictable.  When I was reading the script, I encountered with turns and twists that I was not expecting. But somehow, I connected with Hannah. It was a coming of age story for her. I was 21 at that the time we were shooting, I could relate to her in that sense. Being a woman on this setting could be terrifying, but it was exhilarating. It shows that she is resilient."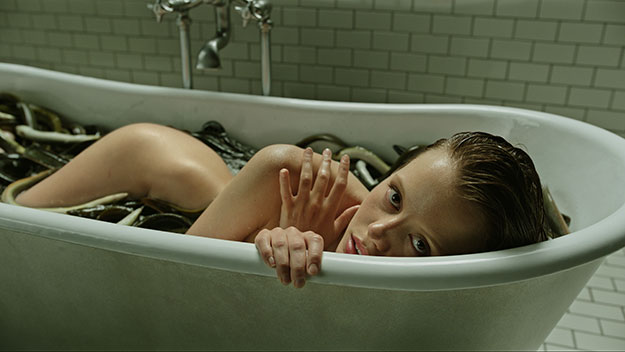 Verbinski wanted the audience to feel the same emotional journey the characters endure: "I wanted to cross line. The narrative becomes untrustworthy.  I wanted to keep the audience doubting. Our brains develop nightmares and phobia. That's how we are hardwire. I wanted to trigger that."  This new approach caused the actors to prepare for a psychological thriller of their own.  Dehaan worked around his character physical constrain to deliver a psychological performance: "The lack of physical movement for my character varied day by day, but it was also mentally. It had a psychological effect because of the torture my character is enduring."
When asked if it affected them on a personal level, Groth explained: "I believe the more you do off set, the less you have to do on set. The scenes in where I was isolated were very scary. I thought I was going to die, but you just jump into it. Gore is an amazing director, and he knew the story he wanted to tell and how to tell it, but he'll let the actors work and gives us freedom." It was a little different for Dehaan, his character is on almost every scene and he couldn't escape his characters nightmares: "To find humanity in my characters becomes and obsessive quest. I don't take the work home, but it is difficult to escape. I dreamed a lot about this character.  I was shooting everyday for five months. After the dentist scene, I had a dream about it, and it became something that if I didn't dream about it I thought I was not doing a good job. Acting is doing. Lockhart goes through crazy things, it is very intense, therefore, the performance had to be intense, but intensity is appealing."
Your mind can affect your body and A Cure for Wellness is a film for those who want to challenge their own nightmares.
A Cure for Wellness in theaters February 17, 2017.