THE GREAT WALL Advance Screening Pass Giveaway!
EntertainmentAffair.com presents the THE GREAT WALL Advance Screening Pass Giveaway from Universal Pictures.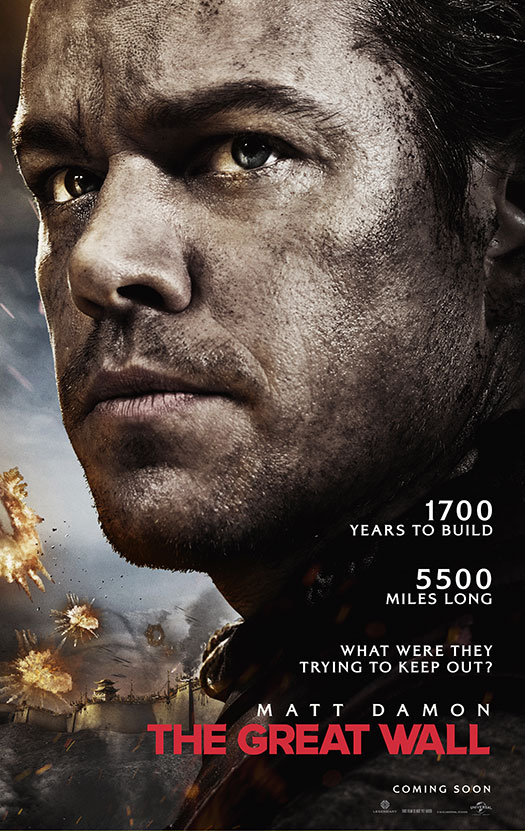 If you live or are in any of these cities we invite you to participate (Chicago, Houston, Los Angeles, Miami and New York).
Download a first-come, first-served screening pass by clicking on the link for your city below. Screenings will take place on Wednesday, February 15.
Follow the instructions in your pass and share your excitement using #TheGreatWall.
Chicago - Regal City North Stadium 14 IMAX & RPX
Houston - Edwards Houston Marq'E
Los Angeles - Edwards South Gate Stadium 20 & IMAX
Miami - Regal Kendall Village Stadium 16 IMAX & RPX
New York - Regal Union Square
Starring global superstar Matt Damon and directed by one of the most breathtaking visual stylists of our time, Zhang Yimou (Hero, House of Flying Daggers), Legendary's The Great Wall tells the story of an elite force making a valiant stand for humanity on the world's most iconic structure. The first English-language production for Yimou is the largest film ever shot entirely in China. The Great Wall also stars Jing Tian, Pedro Pascal, Willem Dafoe and Andy Lau.
Visit all THE GREAT WALL sites:
Visit the official website
Visit The Great Wall on Facebook
Follow @thegreatwall on Twitter #TheGreatWall
The Great Wall in theaters February 17.