'The Shack' Takes Viewers on a Father's Uplifting Spiritual Journey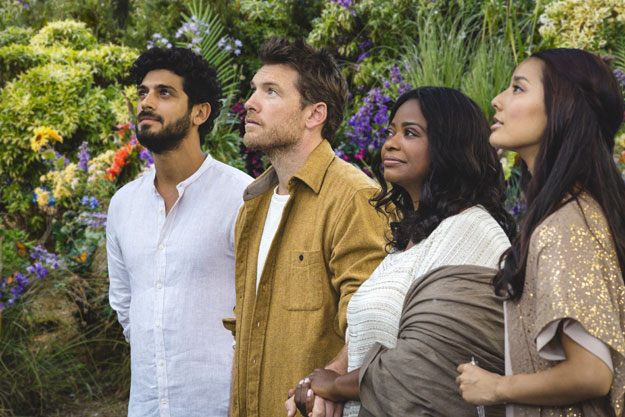 'The Shack' a film based on the New York bestselling novel of the same name, written by Paul Young, is a 132 minute journey into the dark corners of your heart and soul. It started as something that might seem like a religious fundamentalist piece but then it transforms into a different force majeure gesture that could be relevant to any doctrine, religion and non-believer as it discusses and shakes our believes of loss, fear, anger and all the very raw and primitive emotions of our human nature that often times are buried and hidden in some corner of our soul for nobody to find, not even ourselves.
Everyone has experienced loss in some way or another, and in the spectrum of pain some are more in deep waters than others, but everyone can relate.
This spiritual uplifting movie shows Mack Phillips (Sam Worthington) spiraling down into a hole of darkness after suffering a family tragedy. He goes into a deep depression causing him to question his beliefs. Facing a crisis of faith that non-believers can replace as a crisis of self-worth and self direction, as this can be applied in non-religious ways.  One day he receives a mysterious letter urging him to go to an abandoned shack deep in the wilderness in Oregon, as a metaphor of his chaotic but beautiful inside wilderness of emotions that surround this tiny dark place where you are too scared to go in and look because you don't know what horribles things may lie inside. But despite his doubts and fears, Mack goes there and encounters an enigmatic trio of strangers led by a woman named Papa. Through this meeting, Mack finds important truths that will transform his understanding of his tragedy and change his life forever.
The shack as author Paul Young describes it in a recent roundtable interview in Los Angeles is:
"We camped up a lot with the kids you know and I wrote for them so I used all kinds of places that they're familiar with. This is why a lot of people thought that the event was factually historically true. And that is true it's just not real and it's a parable. And so we run into this thing up in the woods some hunters cabin or whatever. So I started with the conversations all the questions that I had and this dialogue between me and God about loss and forgiveness. And it was those conversations that became living. But then it came a time that I asked who's asking why, and it became McKenzie, who embodies my own losses. So I asked what's the setting and thinking about the setting the shack suddenly made perfect sense because it's a place we get stuck. It's the house on the inside. It is our broken soul. But it is a place that I believe God has inhabited the entire time because God dwells with us and what we do is we want to avoid the place of darkness where we hide our secrets where we store our addictions. You know we don't want to deal with it. Our own unforgiveness is there, or shame is there and so it's just this broken down place that you said you never want to go back into but to heal you have to go back into that place. It is your soul and that's what God loves, who God loves. He doesn't love our presentation of our best performance somewhere outside. So we've got to go back in here and co-create some healing. So that you can be free to be comfortable inside your own skin and at home inside your own soul."
For anyone that has gone through tragedies or traumas this journey will come knocking sooner or later on your door, and this is very relevant in the sense that God is just your own self-love, a representation of love, the most powerful thing that exists, and this journey of finding yourself, healing yourself and finally redefining yourself will dawn on you until you get it.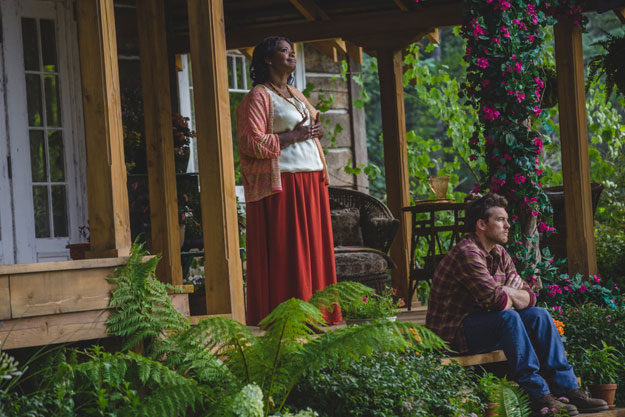 And we asked Octavia Spencer who played God, that when we watched this film we thought this is a faith based film and it will just find its audience in the Christian community but we were just wondering what's your take on this. Can somebody who may not believe in God or be Christian can find some connection with some of the themes in 'The Shack' and the letting go part ?
Octavia shared with us: "Well I think we all face challenges and I think you know agnostics can approach this film and learn from it as well. You realize that we all face challenges and Mac has a huge challenge that he's facing, the loss of a child. Now, I'm not a parent but my friends and family that are. Their worst nightmare is to lose a child. And so you have this man who suffered this tremendous loss and he had such a tumultuous childhood. And then he loses the child and so he loses faith, and loses faith at himself, he loses faith in God, he loses. And by doing that he basically becomes paralyzed in his own life and shuts down and so his family also suffers from that. His daughter also shuts down. So it's about learning to forgive yourself and also learning that if you are a person who has ever questioned God, it's also a way to to be able to forgive God. And so I don't think you necessarily have to be a religious person to understand the message about grief and guilt. Being a paralyzed. And if you don't correct that course, that you will stay in a state of distress and unable to grow. And I think that's something that anybody can do."
Octavia also shared with us what it was like to play God and she jokingly compared her role to Morgan Freeman's.  "Mine was more philosophical and his was more fun" and she added "I mean you know for me it was it was a huge undertaking. And I actually had to try to figure out a way into the character. And so what I did was basically boil it down to the relationship between man and papa. And it felt very parental to me. So I basically did the work as if I were his. His foster mom and I mean it was about building those bridges so that you could trust me again."
Octavia an already fan of the book, as she read it many years before the film came into existence shared that when she was meeting the director she just went and said " I should play the role."
Spencer was magnificent in her essence, a very subtle and powerful character that she had in her hands to play and the author of the book shared his feelings about her playing God, "Oh thank God for her I mean how incredible is the weaving of that. You know I can't even imagine Papa not being Octavia. She embodied what I was wanting this embrace to be but still in your face, you know. The true understanding of what a parent's love is all about that will constantly pursue you and won't stop. Even though you're pushing, you know you're pushing back and filling up all the holes of the things that we've lost along the way maybe our parental relationships with our own parents. And Octavia it's fantastic."
We also asked Octavia a bit more about her take on Jesus being cast with Avraham Aviv Alush and how exciting for her being a fan of the book to actually see casting appropriate to the book and in an actual historical context.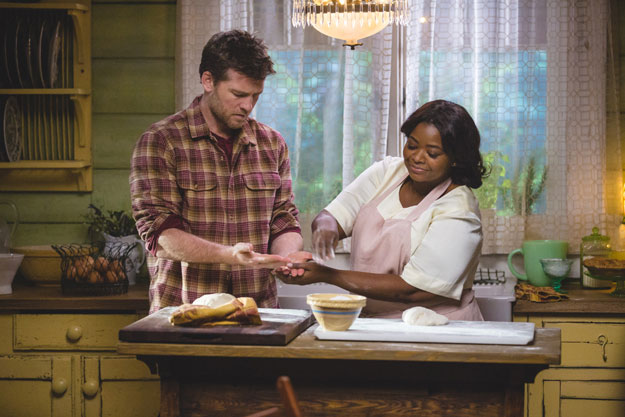 She said "Well I am very glad that they that they cast an Israeli to play Jesus. And in fact the thing about Aviv is that he has this beautiful personality and if you believe that Jesus is the light of the world. Well Aviv is definitely the man you want to play him because he had just this every man light. And when you're around him he just fills the room with joy and he's devout just a beautiful, beautiful person. I'm glad that I got to meet him and work together and he was a lot of fun to work with. He and Sumire." then she continued saying "He's gorgeous, he's hot. I have a crush on Jesus."
Asking her about playing all these different characters and all the momentum she has right now she shared "I respond to that material. You know I'm also playing at a tight role. But is this story that matters to me about an unconventional family. So the common denominator in all of those projects that you listed were the fact that they resonate with me on a deep emotional level. I thought it was important to play Dorothy Vaughn because the fact that we know about John Glenn but we don't know anything about Katherine Johnson's contributions and that is not taught in history as well as the missions, the Nasa missions. I felt it was about time that story was told. Minny you know I was excited to be a part of it because my best friend was a writer and director and his best friend wrote the book. And one of our dear friends was a producer so that was our journey that we began together. But she was also a dynamic character."
Paul Young also shared with us his take on his characters with beautiful and powerful words about his main character. "Mackenzie's weekend in the shack represents 11 years for me. And that included therapy and all kinds of other help but I had to get to the place where I even asked for help. And by the time I'm 50 years old so many of the major issues are gone and then the big reconstruction stuff comes, there's always gonna be work but what took me six months takes me a couple of hours to work to realize oh my gosh I'm getting just sucked right back into this hole. You know and once in a while something will trigger something very deep that still needs to be addressed. So there is ongoing stuff. But at 50 I finally realized that through this journey and arduous work and the process I've finally come to the place where I was the same person in every situation which I didn't even know it was a possibility because I had been a different person in every situation depending on who was, or what was required. I had no addictions at the moment and not the junkie ones only but not the gold chain ones pleasing God doing something great for the kingdom of all those gold chains addictions I call, and I have no secrets. There is nothing in my world that my wife doesn't know or my kids don't know. And that's it's hard getting there. But there's nothing like this. That's what children do until they're taught that trust is dangerous. You know 50 years it took me to finally become a child and I'm not going back to being an adult, is too much work."
And I agree with Young, we need to do the work, we need to reconstruct ourselves, even if we have to go into the hole deep and face our demons and to then re-emerge, to be one with oneself and become a child again, pure love, pure joy and living in the moment. We don't need to wait 50 years for the process and the work to be done, if we let our ego down and do the work  and just love, we can become ourselves and bliss will follow. Someone once told me, pain is inevitable suffering is a choice.
The Shack in theaters March 3.