'Going in Style' Delivers Comedy and Action with a Charming Cast of Veteran Stars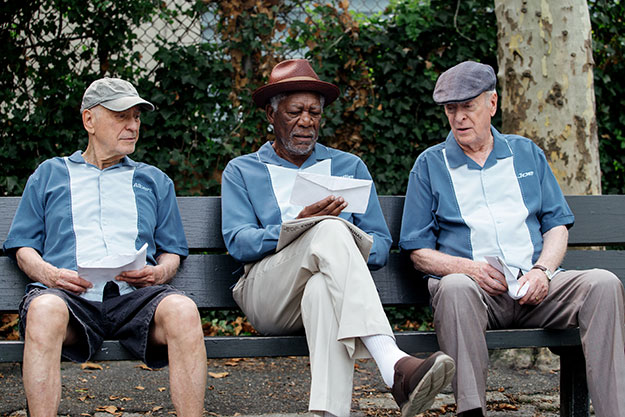 'Age is just a number' says Academy Award winner and Going in Style lead actor Alan Arkin (Little Miss Sunshine). From director Zach Braff (Garden State), this comedy, a 1979 remake, tells the story of three friends played by Morgan Freeman (Million Dollar Baby), Michael Caine (Batman) and Arkin, who worked together in the same steel factory all their lives. After their retirement they see how their pension fund is threatened by corporate interests. They are common people who had played by the rules their entire lives but sometimes enough is enough so they decided to rob a bank to get even.
"I get scripts all the time, but this one was special," Caine shares. "I loved the fact that it was a comedy, which a rarely get, and also the quality of the relationships. It's a very charming film, and very funny, but it has depth. And it was a chance to work with Morgan and Alan." This is the first time these three legends have worked together, along with a stellar supporting cast led by Ann-Margret, as Arkin's love interest, and Christopher Lloyd (Back to the Future).
Played largely for laughs, Going in Style also strikes a note of genuine outrage over the machinations of big business, which might ring true for wide audience, many of whom have felt the pinch of disappearing benefits and bait-and-switch loans, and fallen into the breach between what they were promised and what they got. Arkin adds, "You can imagine if someone worked their whole life and counted on the company they worked to honor that commitment, and it doesn't, that even someone who had never had a criminal thought in their lives would become enraged. I completely understand why these three guys go ballistic and what they do."
In that respect, producer Donald De Line notes, "The story is as relevant today as it was when the original debuted, if not more so. This is not a remake, but a modern take on a premise that stands the test of time.  The system often doesn't work, whether is pension, or insurance or the banks.  My father was with company for years and retired with a pension that was suddenly reduced by half when that company was taken over.  These things happen all the time."
Arkin admitted that he saw the original movie when it came out 40 years ago but he 'doesn't remember it very well.'  He decided to make this film because, "Every time I get a script I expect my character to die. It's good practice for real life,' he says jokingly. 'but this time, I was reading page 65 and my character was still alive.'  Freeman laughs, "I did this film because the producer promised to pay me." Alan replies seriously, "None of us had paying acting jobs until our 30s."  Having success late in their careers is an anomaly in the entertainment industry.  This pack is very well aware of that.  Freeman remembers, "I have a very vivid memory of when I was not successful.  I was very close to drive a taxicab at some point in my career.  I took my chauffeurs license and I was already assigned a car in a company.  My biggest fear was to have as a passenger someone who knew me, but in life you have to keep going.  Before driving that car, Paul Newman called me." Freeman adds, "Your dreams will become true. I never had one that hasn't become true."
At the same time, they all agree how difficult it is to be of a certain age in the film industry. Caine adds, "You don't retire form movies, movies retire from you." Ann-Margret jokes, 'They (Caine, Freeman, Arkin) are 80 year old teenagers.  Your life doesn't end at a certain age.'  Arkin adds, "You get to a certain age and people think you are a different species.  I went to a restaurant in Madrid and they were entire families, children with their parents and grandparents, all dining together at the same table.  That doesn't happen in America."  This type of frustration reflects on the socio economic aspect of the film, making it believable with a fun twist.
These three legends have an undeniable chemistry on and off the screen, all of them in their 80's and with four Academy Awards between them, it was not a surprise that they could balance the comedy and action with some of the more soulful heart filled moments that are what makes Going in Style a well-rounded film.
Let's follow Arkin's advice.  This April, take your entire family, including teenagers and grandparents to share a beautiful family moment full of laughs.
Going in Style in theaters April 7, 2017.