UNFORGETTABLE Advance Screening Guaranteed Seat Giveaway!
EntertainmentAffair.com presents the UNFORGETTABLE Advance Screening Guaranteed Seat sweepstakes from Warner Bros. Pictures.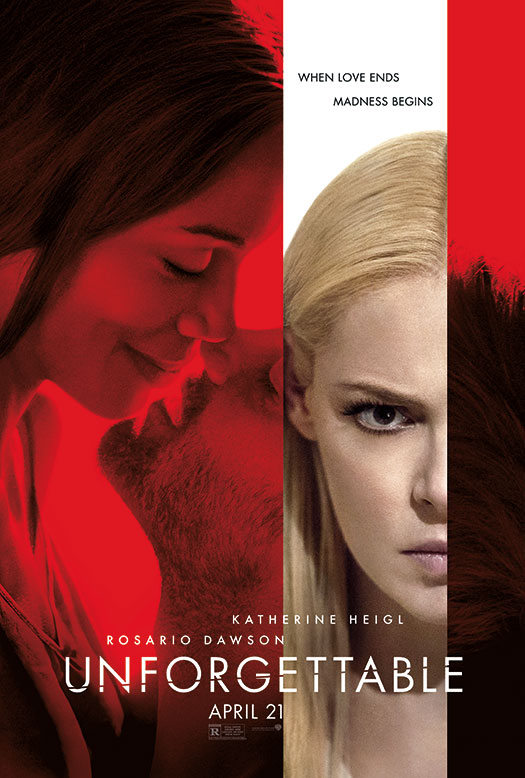 If you live or are in any of these cities we invite you to participate (Albuquerque, Chicago, Dallas, El Paso, Houston, Los Angeles, Miami, New York, San Diego and San Jose).
The screenings will be held on Wednesday, April 19 @7:30PM (local time):
Albuquerque - Regal Winrock 16
Chicago - AMC Showplace Cicero 14
Dallas - Cinemark 17
El Paso - Premiere Cinema 18 at Bassett Place Mall
Houston - Edwards Greenway Grand Palace
Los Angeles - Edwards South Gate Stadium 20
Miami - Cobb Dolphin 19
New York - Regal E-Walk 13
San Diego - AMC Palm Promenade
San Jose - AMC Eastridge 15      
RULES:

Enter your information and the city you wish to attend in the entry box below:

(3) Winners in each of the markets will receive reserved seats for them and a guest.
Winners will be guaranteed a seat as long as they arrive by 6:50PM.
Winners can bypass all lines and check-in via guest list to be admitted.
Warner Bros. Pictures' dramatic thriller "Unforgettable" is the first film in the director's chair for veteran producer Denise Di Novi ("Crazy, Stupid, Love," "Focus").
Katherine Heigl ("27 Dresses," "Knocked Up"), Rosario Dawson (the "Sin City" films) and Geoff Stults (TV's "The Odd Couple"), star in the film. "Unforgettable" marks a reunion for Heigl and Di Novi, who previously collaborated on "Life as We Know It."
The main cast also includes young actress Isabella Rice ("True Blood"), Simon Kassianides (TV's "Agents of S.H.I.E.L.D."), Whitney Cummings ("The Wedding Ringer"), Robert Wisdom (TV's "Ballers") and film and television star Cheryl Ladd.
Heigl stars as Tessa Connover, who is barely coping with the end of her marriage when her ex-husband, David (Stults), becomes happily engaged to Julia Banks (Dawson)—not only bringing Julia into the home they once shared but also into the life of their daughter, Lilly (Isabella Rice). Trying to settle into her new role as a wife and a stepmother, Julia believes she has finally met the man of her dreams, the man who can help her put her own troubled past behind her. But Tessa's jealousy soon takes a pathological turn until she will stop at nothing to turn Julia's dream into her ultimate nightmare.
Visit all UNFORGETTABLE sites:
Visit the official website
Visit Unforgettable The Movie on Facebook
Follow @Un4gettablefilm on Twitter #UnforgettableMovie 
See Unforgettable in theaters April 21, 2017 - starring Katherine Heigl and Rosario Dawson.
Contest closes Monday, April 17 and the lucky winners will be announced. Good luck to everyone!
Sponsors, its employees, members of the family and its agencies are not eligible. One entry per household. Duplicate entries will be disqualified. Winner will be selected by random drawing and notified via email and/or phone. Contest closes Monday, April 17. Open to current residents of the United States only. You must be 18 years of age or older to be eligible to win. No purchase necessary.