'Pirates of the Caribbean' Sails to the Top with New Villain and Funnier Tale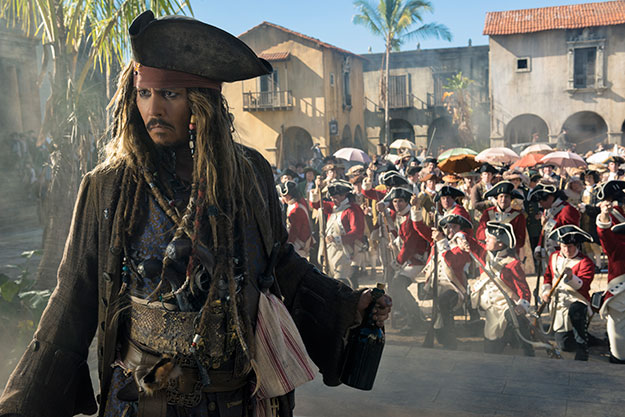 In today's movie landscape, Pirates of the Caribbean is a two billion dollar plus franchise that is opening it's fifth installment with all signs pointing that when the numbers are counted, Pirates of the Caribbean: Dead Men Tell No Tales will be at the top of the box office. Even so, producer Jerry Bruckheimer remembers a time, when the outlook on the film that kickstarted the series was not as positive. "When I was doing the first Pirates of the Caribbean movie, I was convinced my career was over," said the producer between smiles during the press junket for the new film. "It wasn't anything to do with what we were doing creatively, but we were in untested waters," explains Bruckheimer who has been cranking out blockbuster hits like Flashdance, Beverly Hills Cop and Top Gun since the early eighties. "All previous attempts to do movies based on theme park rides had failed at the box office. On top of that we were making a  pirate movie, a genre that  hadn't generated a hit in decades and the leading man which had a spotty and unproved track record at the box office."
All of this is true, while Walt Disney Pictures has not hesitated to bet on Johnny Depp for the last decade, and to keep on betting even when movies like The Lone Ranger and Through The Looking Glass underwhelm in ticket sales, few people care to recall that the actor's first blockbuster was the first time he transformed into Jack Sparrow. The now infamous Captain of the Black Pearl was also the performance that garnered Depp his first Oscar nomination.
All of that success and the repeats of that with the four sequels that followed seemed to make Dead Men Tell No Tales an obligatory green light. But Bruckheimer doesn't agree and he has the fives years between the previous film and the release of this one to prove it. "I know critics will not agree. But with these movies there is no formula. I don't go to Johnny until the script is just right and we don't go into production until we have a first class crew and with this one we have critically acclaimed, Award winning filmmakers sitting in the directors chair," states the producer referring to Joachim Ronning and Espen Sandberg, who after Kon Tiki return once again to the high seas.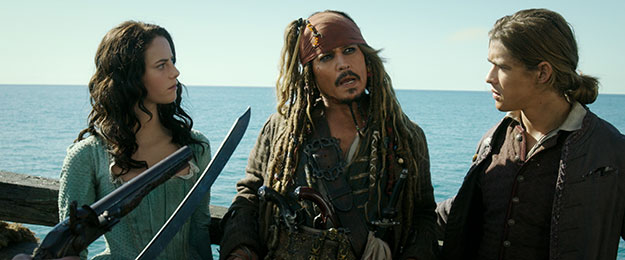 Oddly enough, the filmmakers are convinced that it wasn't their pedigree that got them the job. "We were fans of these films. And that is what came through in all the pitches that we had to do to land this movie," assures Sandberg with a big smile on his face. The directing duo was not intimidated by the scale of the film and are convinced that their biggest challenge was highlighting the new script's humor. "For us it was truly exciting to work on that with Johnny with this character. It is everything you think is going to be as a fan and then more," said Ronning.
But as with the other Pirates of the Caribbean, Johnny Depp and the famous rascal he plays are not the only focus in this adventure. While Bruckheimer insists that  he "always wants to do something new" with a film in this series, this sequel aligns itself with the franchise's origins by making Henry Turner, the son of Will Turner (Orlando Bloom) and Elizabeth Swan (Keira Knightley) the protagonist in this adventure, out to set his father free from the curse that keeps him eternally bound to The Flying Dutchman. While Bloom and Knightley are back for key moments that may hint at later adventures without Jack Sparrow, Bruckheimer insists that it is "really difficult to visualize one of these films without Johnny Depp and Jack Sparrow."
The other new key element in Dead Men Tell No Tales is its villain, who is played by Academy Award Winner Javier Bardem. For the acclaimed Spaniard who has never lent his talents to a commercial blockbuster film, all it took was a phone call. "It didn't matter what role I would be playing. I had gone to visit Penelope (Cruz, his wife) on the previous movie and I was so impressed by the level of detail in the production design and by all the fun they were having. I mean yes it takes a long time to set up a shot, which drives actors crazy, but at the end of the day you are shooting a Pirate movie. It's impossible not to have fun," assured Bardem.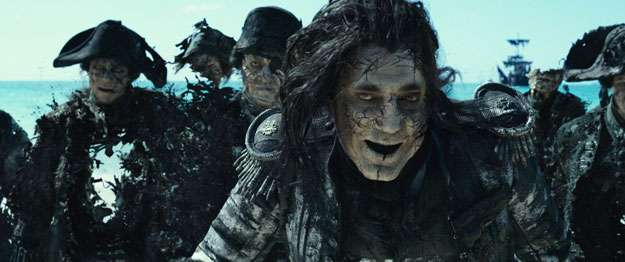 While Bruckheimer says he did not know that Bardem would say yes regardless of the part, the producer offered him the role of Captain Salazar, a Spaniard Captain who set out to vanquish all pirates from the sea, and ended up playing a key role in Jack Sparrow's destiny. The supernatural state of the main villain required Bardem to be in make up for three hours "which was not bad considering how spectacular it looks." The acclaimed actor, also walked away impressed with how the special effects were adapted to his performance and that it was not the other way around. "In a movie like this, there is always the danger of either chewing the scenery or being swallowed by it," said Bardem with a mischievous smile. "I opted to go with the first option and received a lot of help from the special effects team."
Even so, Bardem echoes his director's sentiment when he states that the most gratifying part of the experience was to be able to interact directly with Johnny Depp while he embodies Jack Sparrow. "Penelope had warned me that Johnny was going to throw me off and make me break takes because he is so funny and that's what happened," says Bardem. "It took about two days for me to adjust and then begin to appreciate how truly funny and smart he is while playing Sparrow. I think that is why these films have been so successful. We all want that childlike abandon that Johnny captures as this character. And someone who has the freedom to look at his compass and follow its direction."
This summer, Walt Disney Pictures are hoping that audiences keep following Jack Sparrow to a theater near by. See Pirates of the Caribbean: Dead Men Tell No Tales in theaters now.