Premier Afro-Caribbean Party 'Flowers: Rhythm Delight Music' Celebrates the California Summer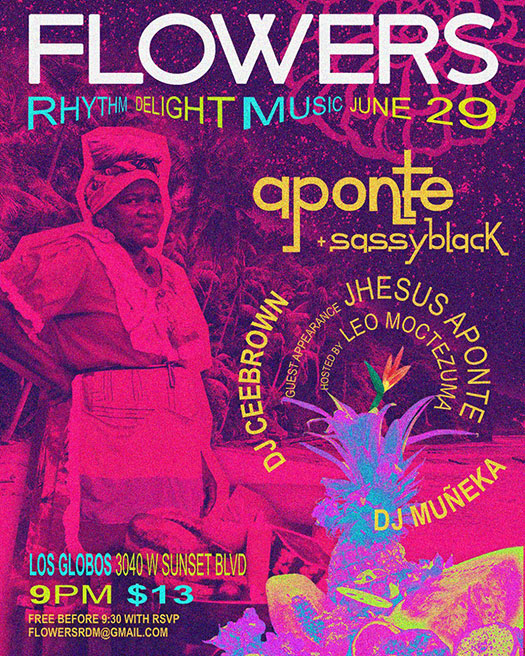 On Thursday, June 29, DelaFlor Productions presents, Flowers: Rhythm Delight Music Summer Edition at LA's iconic nightclub, Los Globos, in Silverlake.
Acts will include soul, hip hop, R&B and aim to bridge music of the Afro-Caribbean diaspora like bomba, salsa and reggae. This party is an all inclusive space that encompasses the diversity of people and music of Los Angeles.
Guests will be entertained with garden inspired aesthetics, face painting and a small business pop-up. The goal of the party is to encourage the LA community to bloom and build gardens by deconstructing invisible walls that divide Los Angeles and its music scene.
"My love affair with this city is what drives me to unite my community through the healing power of music and dance," declares Heidy Rodriguez, Co-Founder of Flowers RDM; A community advocate, event producer, and proclaimed culture cultivator born and raised in Los Angeles.
Performances include the rhythms of APONTE with his synergistic Latin, Afro- influence sounds at the intersection of soul, funk, reggae, salsa, hip hop and jazz. " I am dedicated to bring people together especially during these times where separation seems easier," says blossoming Urban/Pop Artist and Producer, A​PONTE, who is a talented
percussionist from Puerto Rico and currently calls Los Angeles his home.
Sassy Black, the acclaimed Goddess of "electronic psychedelic soul" will also grace the stage with songs of her newly released EP, New Black Swing. LA's notable DJ's CeeBrown (Bodega Sundays) and DJ Muñeka (Rail Up) will keep the night flowing with their global bass, baile funk, and dancehall sets. Flowers RDM will be hosted by Leo Moctezuma Creative Director, and also Co-Host of popular online show, A Songwriter's Right on LA Talk Radio.
Attendees will also receive complimentary musical mementos courtesy of Latin Percussion (LP). Beautiful flowers ambiance made possible by Luxury Florist by CGee
Pre- Sale Tickets are $13 and can be purchased here: http://bit.ly/2s7Gnew
At Door : $13
FREE before 9:30  w/ RSVP
Thursday, June 29 at 9pm
21+
Los Globos - 3040 Sunset Blvd, Los Angeles, CA 90026
About DeLaFlor Productions
DeLaFlor is a music and event production hub based in Los Angeles that aims to provide a transcending experience among artists. Dedicated to bridge the multicultural music scene and showcase quality music with an eclectic taste. DeLaFlor represents  life, love, beauty and is about creating and exposing the optimum stage of artistry in soul, hip hop and future latin music.