Press Conference: 'Cars 3' Steers The Franchise Back On Track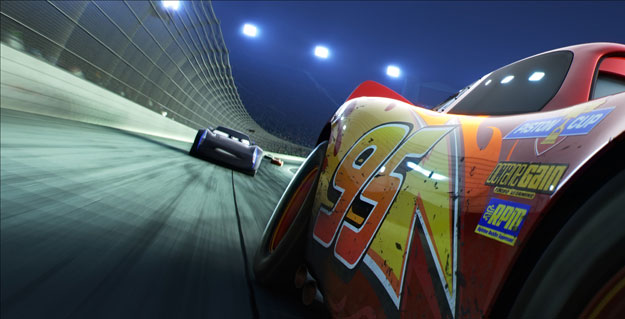 "Strong Female Character" is the new trendy thing to do in Hollywood. Gone are the days -or so we would like to think- that to have a blockbuster, a male lead had to carry the film; and I'm very thankful for the tipping scales in favor of 'Girl Power' but I must ask myself, is this more of the same? One-dimensional women characters serving men's fancies? Natalie Portman once said "The fallacy in Hollywood is that if you're making a 'feminist' story, the woman kicks ass and wins" I'm more than grateful to see this new trend but, is it just a trend and not a real change in Hollywood's and the world's perspective on feminism and female roles? We are seeing a rise lately in movies lead by bad-ass female characters like Mad Max, Captain Marvel, Wonder Woman, Beauty and the Beast, Ghost in the Shell, Atomic Blonde, and so on. 'Cars 3' is referred to as "The Wonder Woman of Pixar" in a recent press conference at the Anaheim Convention Center that we had the privilege to be invited to; introduced a new, super cute and inspiring character, a latina female car underdog named Cruz Ramirez voiced by the hilarious stand-up comedian and actress Cristela Alonzo.
At the press conference Alonzo shared her thoughts on joining the franchise and voicing Cruz saying, "It really is about skill. We don't really reference that she is a girl. We don't reference that she is a female driver. We actually talk about how good she is and we see it in the story. It's one of those lessons that we tend to forget about. It's not about a boy or a girl doing something. It's about the best person doing the best that they can. Such a great way to get a story about female empowerment by reminding everybody that we're pretty much all alike and we're all the same. If you work hard and have the skill, whoever is the best will win."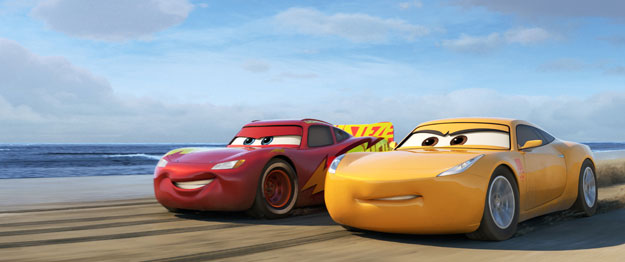 Ramirez is a spunky car racing trainer, that is super excited to get a chance to work with the legendary Lightning McQueen voiced by Owen Wilson. In the film there's a juxtaposition between her freshness and optimism but lack of confidence against McQueen's usual over confidence that turns into cynical pessimism and declining stardom due to aging but the two find their balance and complement each other, and that plays well in the evolution of both characters. We can relate to them, from their journeys and also the great animation job when humanizing these cars and the nuances incorporated in them that we get so involved that we forget they are cars.
Owen Wilson said, "I think it's also that the animators did a pretty good job. I know when they were first animating the cars when they were figuring out how they were going to do the eyes, there is something that is kind of human or inviting about the expressions so I think that helps make the cars more relatable and lifelike to people. I think that's a big part of it. And, the voices, you know?"
Alonzo's Cruz is the standout character in 'Cars 3' in much the same way Larry the Cable Guy's rusty bucktoothed pickup Tow Mater stole the show in the first film 'Cars' but he still managed to steal our hearts in 'Cars 3' being the loyal friend to McQueen and giving the pivoting point advice that changes Lighting's journey forever.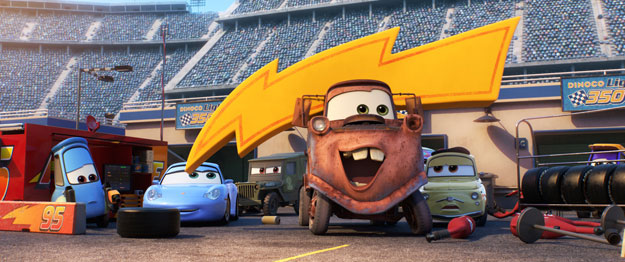 Larry the Cable Guy who voices Tow Mater said, "People can relate to the characters and it's just fun little dudes. They have a lot of heart in them. As far as my character Tow Mater goes, I think a lot of people would like to have a neighbor like Mater. He's dependable, he's lovable and sweet. He may not be the smartest fork in the knife drawer but he's a faithful guy and that's what everybody would like to have. It's cool seeing the progression and how these movies go through things and grow like everybody else. Cars movies have been around a long time so people relate to them  and it's cool to see every movie and the different situations."
Not only the film talks about female empowerment but also about the underdog finding the courage to be their best themselves they can be. Is a great message that comes out of the movie and Kerry Washington who voices a new character named Natalie Certain, a journalist who pops up every so often to point out how her data can't lie and how Jackson Storm the newcomer voiced by Armie Hammer has a 96 percent probability of winning the film's biggest race. Kerry shared with us her thoughts on the film's message saying, "There are a lot of people who feel like an outsider. No matter what the specifics are about why they feel like an outsider or disenfranchised, no matter what that looks like for you, you can identify with Cruz. It will resonate with all kinds of people. What's so special is that there's room for the mentor and the mentee. There's room for the champion and the newcomer. If we work together, there's room for everyone at the table. "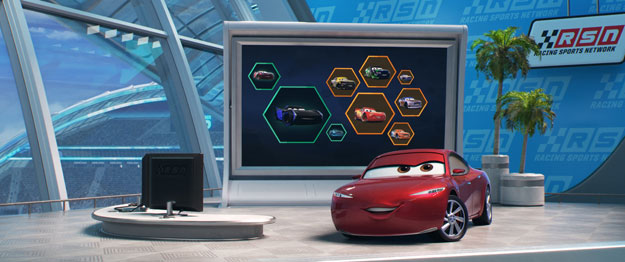 Friendship and mentorship is a big message from the film and Lightning has a friendship with female tech Cruz, a relationship that is supportive and not romantic and Owen explained, "I think that also goes back to the mentor question, the idea that we all do need encouragement and everybody sometimes falls a little short or fails and the idea that we are sort of part of a community. I think that's an important message for everybody. We did record together (Owen and Cristela Alonzo) because (their relationship) is a big part of the movie, the support that she gives me and I hopefully give her."
'Cars 3' is definitely a very cute and inspiring movie worth taking your kids to see and we can all learn a little about, friendship, empowerment, and how to evolve in a constantly and quickly changing world, with new technologies and the new ways of doing the old things, old folks can learn from the youngest as the youngest can learn from the older.
Cars 3 opens in theatres in 3D June 16.