ATOMIC BLONDE Advance Screening Guaranteed Seat Giveaway!
EntertainmentAffair.com presents the ATOMIC BLONDE Advance Screening Guaranteed Seat sweepstakes from Focus Features.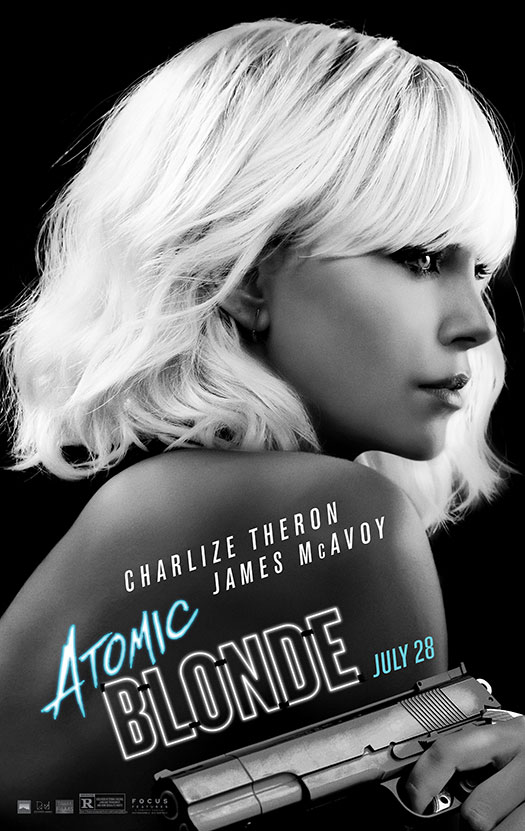 If you live or are in any of these cities we invite you to participate (Chicago, Dallas, El Paso, Houston, Los Angeles, Miami, New York City, Phoenix, San Diego and San Jose). The screenings will be held on Wednesday, July 26 @7:30PM (local time).

RULES:

Enter your information and the city you wish to attend in the entry box below:

(2) Winners in each of the markets will receive reserved seats for them and a guest.
Winners will receive guaranteed seats and be admitted via guest list check-in.
Winners should arrive no later than 6:50PM to claim their seats.
Winners should bypass all lines and check-in with the screening rep inside the theater lobby.
Oscar® winner Charlize Theron explodes into summer in Atomic Blonde, a breakneck action-thriller that follows MI6's most lethal assassin through a ticking time bomb of a city simmering with revolution and double-crossing hives of traitors.
The crown jewel of Her Majesty's Secret Intelligence Service, Agent Lorraine Broughton (Theron) is equal parts spycraft, sensuality and savagery, willing to deploy any of her skills to stay alive on her impossible mission.  Sent alone into Berlin to deliver a priceless dossier out of the destabilized city, she partners with embedded station chief David Percival (James McAvoy) to navigate her way through the deadliest game of spies.
A blistering blend of sleek action, gritty sexuality and dazzling style, Atomic Blonde is directed by David Leitch (John Wick, upcoming Deadpool 2).  Also starring John Goodman, Til Schweiger, Eddie Marsan, Sofia Boutella and Toby Jones, the film is based on the Oni Press graphic novel series "The Coldest City," by Antony Johnston & illustrator Sam Hart.  Kurt Johnstad (300) wrote the screenplay.
Visit all ATOMIC BLONDE sites:
Visit the official website
Visit Atomic Blonde on Facebook
Follow @atomic_blonde on Twitter #AtomicBlonde 
Atomic Blonde is in theaters July 28.
Contest closes Friday, July 21 and the lucky winners will be announced. Good luck to everyone!
Sponsors, its employees, members of the family and its agencies are not eligible. One entry per household. Duplicate entries will be disqualified. Winner will be selected by random drawing and notified via email and/or phone. Contest closes Friday, July 21. Open to current residents of the United States only. You must be 18 years of age or older to be eligible to win. No purchase necessary.