'Spider-Man: Homecoming' Cast and Crew Talk Film's Diversity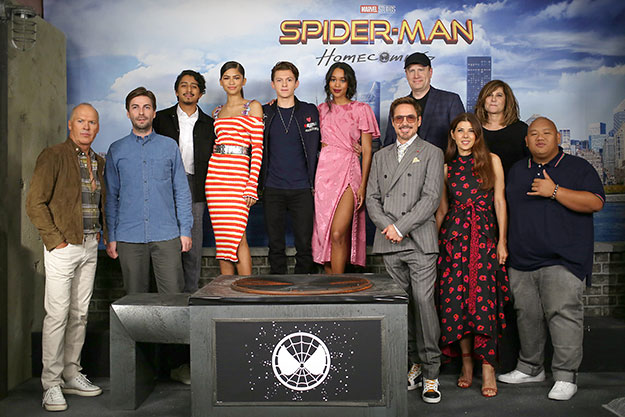 Entertainment Affair was at the "Spider-Man: Homecoming" press conference in New York on Sunday (June 25), where actors Tom Holland, Robert Downey Jr., Marisa Tomei, Zendaya, Jacob Batalon, Laura Harrier, Tony Revolori and Michael Keaton were joined by director Jon Watts and producers Kevin Feige and Amy Pascal to talk about the web-slinger's Marvel Cinematic Universe debut.
The film includes actors from all different backgrounds, ethnicities and ages taking on pivotal roles. Latino actor Tony Revolori thanked producers for giving him the role of Flash Thompson, which is traditionally a white character. "Thank you to Jon, Amy and Kevin for casting a 5-foot-8 brown guy to play a 6-foot-2 blond, blue-eyed guy."
"I think the fact that when you see the film, there's not a single line of exposition as to explain why I look the way I look and I think that's wonderful that I just am in the movie. It's not about being a certain race, it's not about doing anything. I think that's the kind of diversity we need in Hollywood now."
When asked about the inspiration behind the film's diversity, producer Amy Pascal simply said "reality," which was met with huge cheers from the cast and audience. You can watch the full press conference below.
Spider-Man: Homecoming swings into theaters July 7.