'The Story of Us with Morgan Freeman' Premiering Fall 2017 on Nat Geo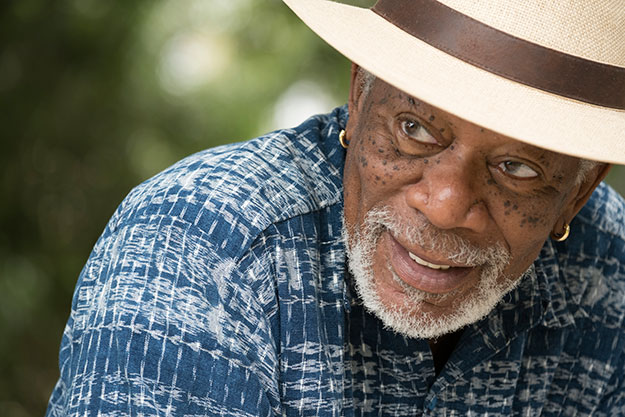 Why do some people rise to power and others do not? Why do we fall in love — not just with romantic partners but with friends and strangers? How has our need to share beliefs built human culture? National Geographic will seek to answer these big questions and many more with new series The Story of Us with Morgan Freeman, from the creators of the critically acclaimed series The Story of God with Morgan Freeman, premiering in fall 2017 on National Geographic in 171 countries and 45 languages and in January 2018 in Spanish on Nat Geo MUNDO. In this expansion of the network's hit franchise, Freeman will once again take viewers on a global journey to meet with people from different cultures whose lives are shaped in surprising ways by different fundamental forces, this time exploring themes that unite us all.
At a time when global events seem to be driving cultures apart, The Story of Us aims to uncover the fundamental forces that keep our societies together, and to reveal the common humanity that lies inside each one of us. Each of the six hourlong episodes will explore a single fundamental force or topic:
Belief – Storytelling has allowed humans to cooperate, communicate and create a set of shared beliefs. But do we need shared beliefs to survive? 
Love – Humans are a social species, and the bonds that hold us together begin with the bonds of love. From romantic relationships to love directed at perfect strangers, how has this primal force shaped cultures around the world, and where will it take us in the future? 
Power – Since the first humans began to live in groups, certain individuals have risen up to become leaders — a power that often comes with a price. How do power dynamics shape the world we live in? 
War and Peace – Humanity strives to live in peace, yet there has never been a year in our history without war. Are we an inherently violent species? Is conflict an essential force that propels our society forward? Is peace even possible? 
Rebellion – For as long as humans have come together to form societies, there have been individuals who desire to remake them. Whether acting alone or starting a movement, what makes us rebel?
Freedom – What does it mean to be free? For the past two millennia we have witnessed a struggle between the desire to expand individual freedoms and the urge to limit them. But what does freedom really mean?
Vast in scope and intimate in style, Freeman again travels around the world to hear from people of all walks of life about how these forces have affected their experiences, in hopes of uncovering who we are as a species and to find out where our civilization may be headed.
"We're thrilled to partner with Revelations Entertainment once again on a refreshing new take on our successful series franchise," said Tim Pastore, president of original programming and production, National Geographic. "It is no surprise that our global audience has warmly embraced Morgan as part of the National Geographic family. The beauty of this franchise is that Morgan represents all of us on his personal quest to understand these topics."
"I've been given the incredible opportunity to take viewers on a new global journey to understand how human culture has taken on so many remarkable forms," added Freeman, who co-founded Revelations Entertainment with Lori McCreary. Both are joined as executive producers by James Younger. Freeman continued, "Over the last few months, I've spoken with people ranging from villagers in isolated parts of Africa and South America, to billionaires and former heads of state. The personal stories they've shared have helped us to draw incredible connections across the entire human experience that we think viewers will find both enlightening and entertaining."
The Story of Us is produced by Revelations Entertainment for National Geographic. For Revelations Entertainment, the executive producers are Morgan Freeman, Lori McCreary and James Younger. For National Geographic, the executive producer is Betsy Forhan; Kevin Tao Mohs is vice president, production and development; and Tim Pastore is president of original programming and production.
For more information about the series premiere in English, visit natgeotv.com, and follow us on Instagram and Twitter (@natgeochannel) and for more information about the series premiere in Spanish, visit www.natgeomundo.com and follow us on Facebook (Nat Geo Mundo), Twitter (@natgeomundo) and Instagram (@natgeomundo).