Universo's Original Scripted Series "El Vato" Returns for Second Season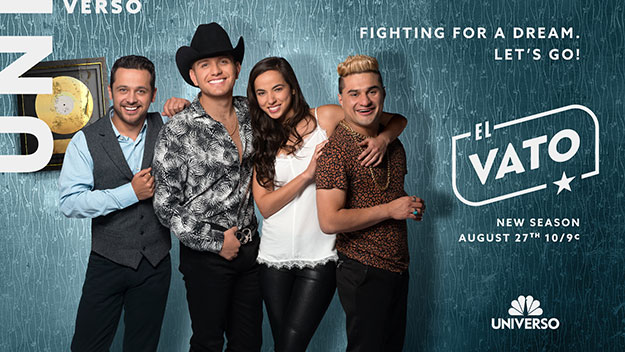 UNIVERSO, the fastest growing Spanish-language entertainment cable network in the U.S., announced the premiere of the second season of its original scripted series "El Vato", Sunday, August 27 at 10pm/9C. The 13-episode dramedy follows El Vato (El Dasa) and his unconditional friends Mariana (Cristina Rodlo), El Pollo (Gustavo Egelhaaf) and Brandon (Ricardo Polanco) as they face challenges with humor along their journey to achieve the American dream.
On this new season, the scripted dramedy inspired by music star El Dasa's incredible real life story follows El Vato (El Dasa) and his friends as they continue fighting for their dreams in Los Angeles, in pursuit of a coveted spot in the Regional Mexican music world. After signing a contract, El Vato realizes he is trapped. Lolo Lozada (Horacio Castelo) the owner of his contract, only signed him to stop him from competing with other 'Norteño' singers in his record company. As usual, El Vato's friends will accompany him on these adventures. El Vato will have to face people who want take him down, juggle various love interests and do the impossible to continue the fight with his friends.
In addition to the fun-filled adventures, viewers will get to enjoy musical collaborations by El Dasa who composed the series' music including "El Hijo del Desierto", "Soy Norteño" and "Ya me vi." Viewers can catch up by watching the first season of ten episodes on Telemundo beginning Saturday, July 29th at 4pm/3C.
For the latest news about the production visit https://www.facebook.com/ElVatoTV and Instagram https://www.instagram.com/ElVatoTV, and join the conversation on social media by using #ElVato.