10 Celebrity Contestants Hit the Dance Floor on "Mira Quién Baila's" Fifth Season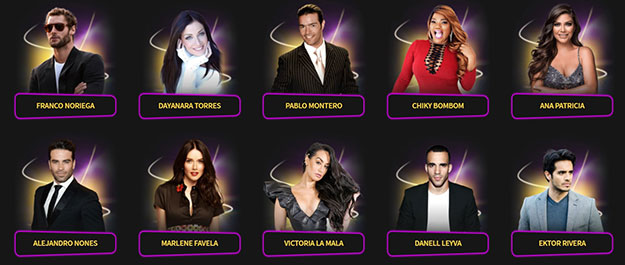 This weekend, Univision's megahit celebrity dance competition, "Mira Quién Baila" (MQB, Look Who's Dancing) premieres and the studio is sure to light up with stellar performances from 10 celebrity contestants who have accepted the dance challenge to compete for a $50,000 donation to their charity of choice. Celebrities will do their best in hopes of helping a variety of causes, including childhood cancer, music education and animal cruelty, among others, which will be revealed during the first show this upcoming Sunday, September 17th.
From TV stars to recording artists, here are the contestants who will dance with their hearts for charity:
Pablo Montero – Mexican heartthrob singer and actor
Chikybombom – Dominican-American internet sensation
Marlene Favela – Stunning Mexican actress who had a main role in popular telenovelas "Corazon Apasionado" and "Gata Salvaje"
Ana Patricia Gámez – Former "Nuestra Belleza Latina" (Our Latin Beauty) champion and current entertainment co-host of Univision's morning show "Despierta América" (Wake Up, America)
Alejandro Nones – Venezuelan actor who recently played the villain on the Univision series "La Piloto" (The Pilot)
Franco Noriega – Multitalented Peruvian model, competitive swimmer and now, top chef
Victoria "La Mala" Ortiz – Mexican singer of recent single "Si va a doler, que duela"
Ektor Rivera – Versatile Puerto Rican singer, actor, artist and Broadway veteran
Dayanara Torres – 1993 Miss Puerto Rico and Miss Universe
Danell Leyva – Cuban American gymnast, who competed representing USA – winning the Bronze Medal during the 2012 Olympic games in London
All celebrities have been strictly rehearsing for their first dance off in front of this season's judges: Roselyn Sánchez, Johnny Lozada and Poty Castillo, whom will provide critique and commentary based on their expertise on each dance performance. The judges, along with the fans', votes will determine who continues in the competition for the chance to win a $50,000 donation to the charity of their choice.
The popular competition, which will air Sundays at 8 p.m. ET/PT (7 p.m. CT), will be hosted by Chiquinquirá Delgado and Javier Poza. Jomari Goyso will have the latest from backstage and social media. Choreographer Rodrigo Basurto promises an innovative, contemporary and high-energy mix of ballroom, Latin and urban moves that will have viewers dancing along with the stars.
MQB premieres this Sunday, September 17th at 8 p.m. ET/PT (6 pm. CT) on Univision Network.