Roselyn Sanchez Supports Puerto Rico's Recovery from Hurricane Maria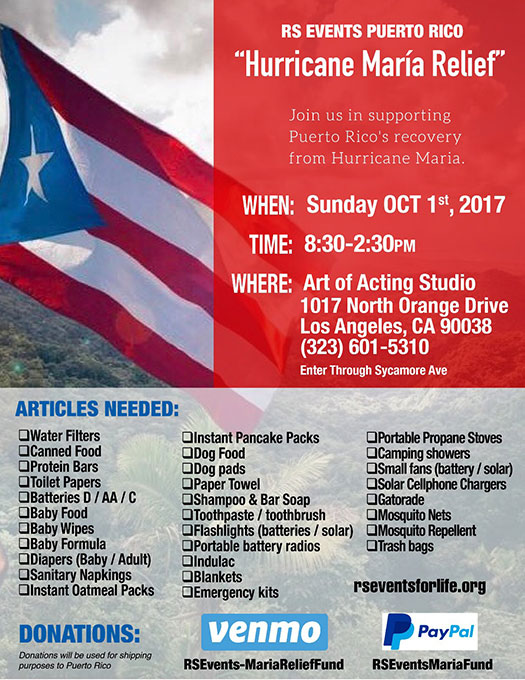 RS Events for Life, a non-profit organization created by actress and activist, Roselyn Sanchez, hosts a fundraiser to gather needed supplies for those who suffered from Hurricane Maria, the tragic storm that hit Puerto Rico. The entire island experienced hurricane conditions with 20 inches or more of rain fall. Winds snapped palm trees, shredded homes and sent debris skidding across beaches and roads. Maria shook buildings and blew out windows and flood waters inundated homes that had never been flooded.
To show support for Puerto Rico, donations of water filters, canned food, protein bars, toilet paper, baby food, baby wipes, blankets, toothpaste, batteries, flashlights, emergency kits, and dog food to name a few items that are being asked to donate. Non-profit founder, Roselyn Sanchez, along with a collective effort of colleagues and friends in Los Angeles and Voices for Puerto Rico movement has stepped up to the plate to show her support. "We all know of the terrible situation that my country Puerto Rico is experiencing after Hurricanes Irma and Maria. The need on the Island is immense, and through this drive to collect supplies I intend to do my bit to help the people that I love and have supported me over the years. It is time to pray but also to act swiftly. The Government in Puerto Rico is doing a tireless work to rebuild the country and its infrastructure that has been destroyed. It is now up to us, the citizens to act responsibly and to help all those communities that have been destroyed and people left in hunger. The donations gathered on Sunday will serve to help all these people and give them hope and to remind them that they are not alone. To hold a little longer because help is on its way. Frankly, the transport of goods to the island at this time is very complicated and uphill work. But my RS Events For Life Foundation is committed to the delivery of each and every item donated this Sunday; that it will reach Puerto Rico by boat or plane. We are in the process of organizing the shipment. Now the most important thing is for the people here in Los Angeles to respond and help us," said Sanchez.
Join them in supporting Puerto Rico's recovery from Hurricane Maria, Sunday, October 1st from 8:30am until 2:30pm at the Art of Acting studio in Los Angeles and iLLESTEVA store on Abbot Kinney, 1329 Abbot Kinney Blvd Venice, CA 90291 from 11am to 7pm.
For more information please visit: www.rseventsforlife.org