The Lively and Amusing Adventure of 'The Lego Ninjago Movie'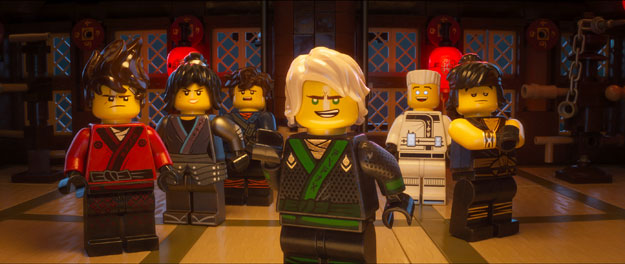 It was shortly after noon. Colorful walls were followed by a welcoming dinosaur. Except this wasn't just any dinosaur, it was made out of Legos! We'd finally arrived at the Legoland hotel. Greeted gracefully by hotel employees, we walked to our room. Before that we hopped in the elevator where the experience enhanced with fun music and disco lights, inevitably turning what was already a cool Legoland elevator into a dance party. Next was our room. Greeted by a monkey made out of Lego's, to her/his left were bunk beds with its own mounted TV. The little ones get their own experience. As we made our way into the bedroom, we glanced at the bathroom decorated with Lego artwork. Throughout Legoland Hotel California, rooms are themed differently providing guests with a unique experience. Ours was an Egyptian Lego themed bedroom.
Later that evening, we were out for our screening for The Lego Ninjago Movie. An animated action-packed film with humor, unforgettable music, and a storyline that's both intimate and resonant. The following day, at Legoland, California, the stars and filmmakers talked moviemaking, creating animated Legos, and finding the right voice behind each character.
"We designed the whole world [of Lego Ninjago] brick by brick in the same way that we would build in real life," said director Charlie Bean. The visual idea, producer Chris McKay added, 'was to make it for kids in a way as if they were playing with their toys.' In comparison to Lego Batman, producer Dan Lin explained Ninjago is a lot brighter. "Every one of our Lego movies is different… This one's [Ninjago] probably our most brightest, most beautiful movie yet. And we've incorporated lots of natural elements into it. Here you'll see real water, real smoke, real fire, real trees, and plants. So it's really beautiful to see Legos mixed with mother nature."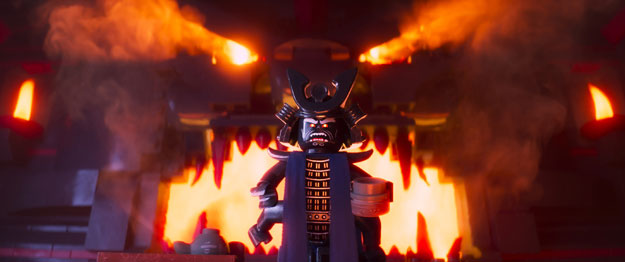 Just by the details of the film and notes from the producers, it's no surprise The Lego Ninjago Movie took a large, talented team to develop. Bob Logan and Paul Fisher, who also worked on the story and screenplay joined Charlie Bean as directors. The story was also by Hilary Winston, Dan and Kevin Hageman, based on Lego Construction Toys. The screenplay was also produced by William and Tom Wheeler (who also worked on story), Jared Stern, and John Whittington.
Animation, of course, needs its voices to bring the story to its full potential. An all-star cast make Ninjago. Jackie Chan stars as Master Wu, a wise master who leads a team of ninjas to defeat evil warlord Garmadon (Justin Theroux), aka The Worst Guy Ever, who also happens to be Lloyd's dad. Lloyd, played by Dave Franco, was raised by his mother Koko (Olivia Munn). Lloyd is part of the secret ninja crew, made up by Nya (Abbi Jacobson), Cole (Fred Armisen), Jay (Kumail Nanjiani), Zane (Zach Woods) and Kai (Michael Peña). These modern-day ninjas go on a journey of discipline, ego testing, and learning to work together to unleash their inner power.
When asked about their decision on joining the Lego franchise for Ninjago, the cast agreed with Fred Armisen, "All of the Lego movies always seem so immediately cool and funny, so it was a very easy decision." Dave Franco added, "The creative team behind these movies somehow find a way to make humor appeal equally to my nephews who are all under the age of five up to my friends who are in their 30's and that's not an easy task."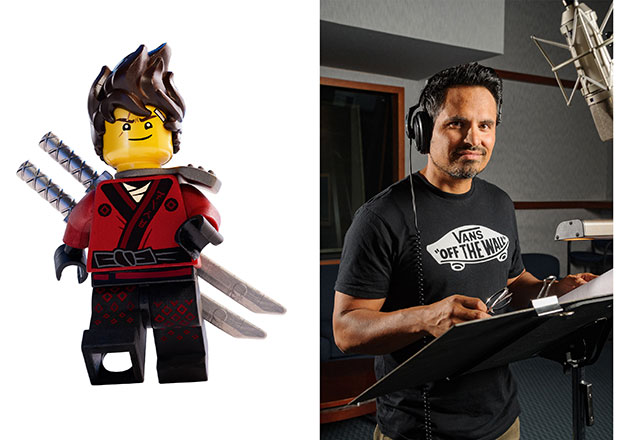 For Michael Peña, however, the answer was slightly different. "For me, I didn't care who was making the Ninjago movie. I was just trying to be in it." In between laughs, he referred to his kids who watch the films over and over again "and we love you for that. My son is so psyched on it. We came into Legoland and his head almost exploded like three times… and when we saw the movie, my son said 'It's the best movie I've ever seen in my life.'"
Jackie Chan, who was not only a voice actor but the choreographer as well, talked about both roles in Ninjago. "First, I just didn't know why they hired me to be the voice!" He said to the director, "I don't know perfect English. Why me? and he said, 'that's what we want.'" He mentioned the choreography role happened organically as he added his knowledge from his own martial arts experience.
An interesting aspect of the film that is also used as a coping mechanism skill for teaching kids in the real world is a change in point of view. Charlie Bean explained, "In one way they're solving all their problems with these mass machines and what Jackie is trying to teach them is you have a much greater power inside you. Look at the problems that you're facing in a different way. And even Garmadon, he goes through the same things. He looks at his family and the relationship with his son in a different way."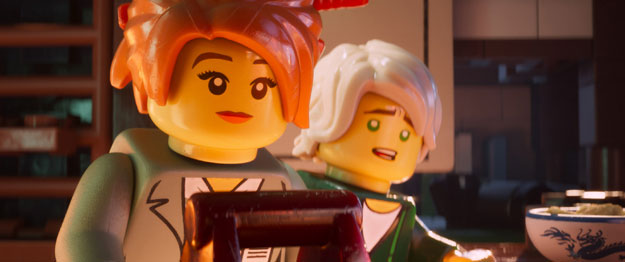 While the actors recorded most of the work individually, they did get a chance to improvise and act together in a room. A moment they describe as fun and inspiring. Abbi Jacobson commented, "We'd been recording individually for at least a year. It felt like the timing of it was perfect because all of us had already found the character."
On creating Koko, Olivia Munn shared her love for her character. "I wanted to play the mother as the eternal optimist. Lloyd her son is going through a really tough time and she just wanted to love him through it. That no matter what attitude he might have that day, that she wasn't going to judge him for that moment. That she was going to keep loving him through it. What I love is that as we go through the movie, you see this other side of her… It really showed the depths of her talent and who she was as a person." Munn's favorite characteristic about Koko is the importance of being a hero to her son. "Out of all the things she could do, she chose to be a mother… and I just love that part of her."
The Lego Ninjago Movie is an absolute blast. It resonates and teaches a message of self-value where no matter who you are, you are important and special. Plus, the action and the music will keep you and your little ones amused. The story shares a message on how we all connect other people and that in itself makes us important. The themes in this animated adventure are of great significance and bring the family together.
The Lego Ninjago Movie opens in theaters in both 3D and 2D September 22.