VH1 Goes Backstage With "Ricky Martin: Behind The Vegas Residency"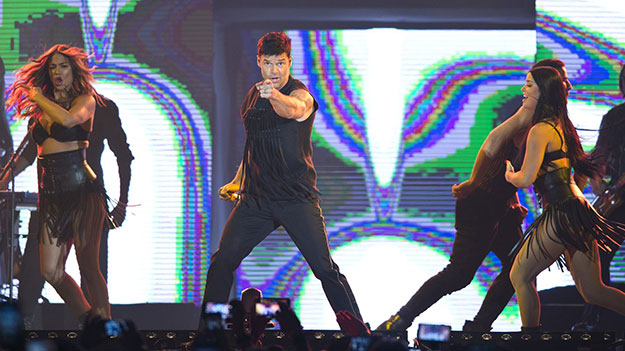 "Ricky Martin: Behind The Vegas Residency" will premiere Monday, September 4th at 10PM ET/PT. This one-hour special will give viewers access to Ricky Martin's seven week preparation for his Vegas residency.
Every candid moment, career flashback and intimate encounter with his friends and family will give fans an up close look.
Multiple Grammy Award winner and Latin Grammy award winner Ricky Martin is the leading Latin Music figure of his generation. Beloved by fans worldwide for his instinctive understanding of rhythm, passion for performing and equal compassion for giving, Ricky Martin set-off on his own musical path with the 1991 release of his self-titled debut solo album. With the escalating success of landmark singles such as "Maria" and his globally embraced 1998 World Cup Anthem "La Copa de la Vida" ("The Cup of Life"), Martin vaulted to the level of bona fide global superstar and the natural performer to lead an oncoming cultural revolution.
Declared an international pop icon and Latin Music's Global Ambassador by Billboard and recognized by the Latin Recording Academy as it's youngest-ever "Person of the Year" honoree, Ricky Martin has sold over 85 million albums and continues to perform to sold-out stadium and arena audiences throughout the world. Martin's career also includes Broadway runs in Les Miserables and EVITA, as well as television appearances on "GLEE" and the upcoming FX series "American Crime Story: Versace." Additionally, Martin debuted on the New York Times Bestseller list with his 2010 release of his highly praised autobiography "ME," along with writing his first children's book Santiago the Dreamer in Land Among the Stars. Martin has been the recipient of dozens of prestigious international awards saluting both his career achievements and far-reaching philanthropic efforts. His extensive charitable work is spearheaded through the programs of the Ricky Martin Foundation, which advocates for the well-being of children around the globe in critical areas such as social justice, education and health.
Stay up-to-date on 'Ricky Martin: Behind The Vegas Residency' news and exclusives on @VH1's Facebook, Twitter and Instagram. Use #RickyMartinSpecial to join the conversation. 
"Ricky Martin: Behind The Vegas Residency" is executive produced by 51 Minds' Christian Sarabia, Ricky Martin, Major TV's Raymond Garcia, Jamie King and Gil Lopez. David Cabrera, Jose Vega, and Daniel Sladek serve as co-executive producers. Lily Neumeyer is executive producing for VH1.