BiRDMAN LiVE Film and Score by Composer Antonio Sanchez at Royce Hall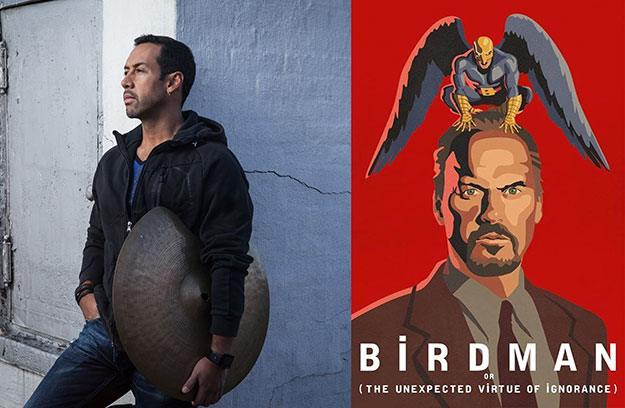 UCLA's Center for the Art of Performance (CAP UCLA) presents Alejandro González Iñárritu's Oscar-winning movie Birdman: Or (The Unexpected Virtue of Ignorance) with the Grammy-winning original score accompanied live by composer Antonio Sanchez at 8 p.m. on Friday, February 16 at Royce Hall. Tickets are now available for $29–$59 online at cap.ucla.edu, via Ticketmaster, by phone 310-825-2101 and at the UCLA Central Ticket Office.
Antonio Sanchez: BiRDMAN LiVE is a new addition to the CAP UCLA 2017–18 season, in conjunction with the previously announced season performance by Antonio Sanchez & Migration on Saturday, Feb. 17 at 8 p.m. at The Theatre at Ace Hotel. Those who purchase tickets to one of the two events featuring Antonio Sanchez will receive 50 percent off of tickets to the other performance.
The visually stunning 2015 Oscar winner for Best Picture by maverick director Alejandro Iñárritu stars Michael Keaton as a washed-up action star trying to reinvent his career as a credible actor and director on the Broadway stage. For this special performance, the film will be accompanied live by renowned jazz drummer Sanchez, recreating his explosive, Grammy-winning score that provides the heartbeat of the film.
With a supporting cast that includes Edward Norton, Naomi Watts, Zach Galifianakis and Emma Stone, Birdman: Or (The Unexpected Virtue of Ignorance) is a kinetic film experience that plays like a single, continuous sequence of events, with Sanchez's drums supplying the energy and drive that underlines the emotional weight of the story and perfectly expresses the restless, desperate intensity of the characters.
With unprecedented attention focused on Sanchez following his lauded Birdman score, he simultaneously released Three Times Three and The Meridian Suite in 2014. These expansive albums reinforced his place at the forefront of modern jazz — breaking boundaries as a virtuoso drummer, a visionary composer, and a truly inspired musical thinker.
CAP UCLA's 2017–18 jazz programs continue at The Theatre at Ace Hotel with Jason Moran's IN MY MIND: Monk at Town Hall 1959 (Nov. 10), Goapele (Feb. 10), Antonio Sanchez & Migration (Feb. 17) and Angélique Kidjo's Remain in Light (May 5), plus The Jazz Epistles (March 3) at Royce Hall.
Like CAP UCLA on Facebook, and follow us on Twitter and Instagram. #CAPUCLA #BiRDMANLiVECAPUCLA