BRIGHT Advance Screening Guaranteed Seat Giveaway!
EntertainmentAffair.com presents the BRIGHT Advance Screening Guaranteed Seat sweepstakes from Netflix.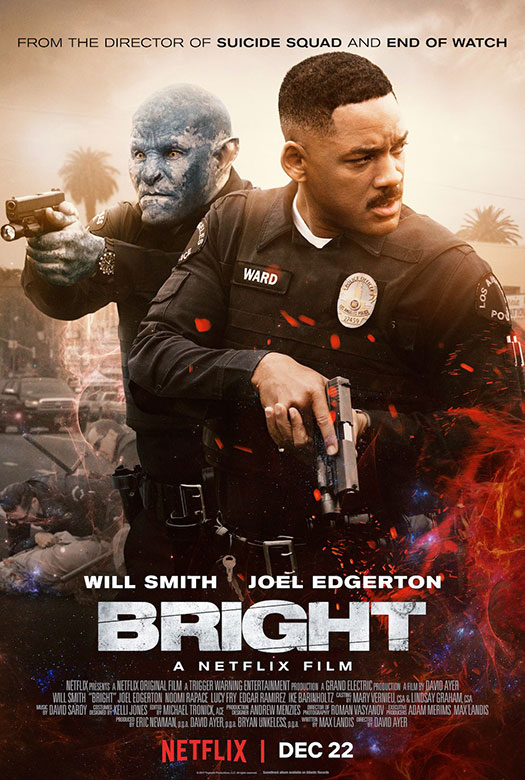 If you live or are in any of these cities we invite you to participate (Los Angeles and New York). The screenings will be held on Thursday, December 21 @7:30PM (local time).

RULES:

Enter your information and the city you wish to attend in the entry box below:

(5) Winners in each of the markets will receive reserved seats for them and a guest.
Winners will be guaranteed a seat as long as they arrive by 6:50PM.
Winners can bypass all lines and check-in via guest list to be admitted.
Set in an alternate present-day where humans, orcs, elves, and fairies have been co-existing since the beginning of time. Bright is genre-bending action movie that follows two cops from very different backgrounds. Ward (Will Smith) and Jakoby (Joel Edgerton), embark on a routine patrol night and encounter a darkness that will ultimately alter the future and their world as they know it.
Bright is available only on Netflix this December. Bright is directed by David Ayer (Training Day, End of Watch, Suicide Squad) stars Will Smith (Men in Black), Joel Edgerton (The Great Gatsby), Noomi Rapace (The Girl with the Dragon Tattoo), Lucy Fry (11.22.63), Edgar Ramirez (Hands of Stone, Zero Dark Thirty), Margaret Cho (Drop Dead Diva), and Ike Barinholtz (Suicide Squad). The movie is written by Max Landis (Chronicle) and produced by Ayer, Eric Newman (Narcos) and Bryan Unkeless (The Hunger Games).
Visit all BRIGHT sites:
Visit the official website
Visit Bright on Facebook
Follow @BrightNetflix on Twitter #BrightMovie 
Bright premieres on Netflix December 22nd.
Contest closes Sunday, December 17 and the lucky winners will be announced. Good luck to everyone!
Sponsors, its employees, members of the family and its agencies are not eligible. One entry per household. Duplicate entries will be disqualified. Winner will be selected by random drawing and notified via email and/or phone. Contest closes Sunday, December 17. Open to current residents of the United States only. You must be 18 years of age or older to be eligible to win. No purchase necessary.